Pocketables have some new information on the latest Porient tablet, the H12. Compared to the earlier H9 model its smaller (4.8″ compared to 7″) and has no hard disk but it looks like its still running their Linux OS. With the relatively old Xscale processor (as seen on the original Pepper Pad a few years ago – a rather slow browsing device if I may say so) it doesn't appear to be able to compete with devices like new $500-range, Viliv X5 which will be running XP on an Atom processor so in terms of pricing, it just has to be sub $400 to be able to compete. Even at that price, the Nokia N800 which you can get for under $300, seems like a better option. This one really has to be $299 or less if it's going to have a chance.
How about $199? would you buy it at that price? $199 is the price that Techcrunch want to offer their tablet and the device matches many of their core criteria apart from screen size (although you wouldn't guess it from the renderings!)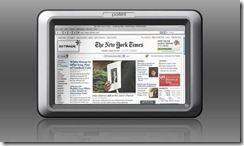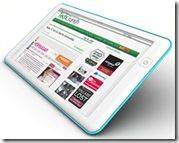 Porient H12 and TC Tablet renderings.
Pocketables are in touch with Porient and are hoping to receive pricing soon. It's going to be very interesting to see exactly what price Porient think the market will stand for this device.  Keep an eye on Pockatables.com for more info. In the meantime, I've put the details into our database so you can see which devices are similar. The BenQ S6 is one to watch out for if 4.8″ tablets are your thing.