Update: I'm currently live on UMPCPortal.com/live testing this out if you fancy seeing it in action.
Update: Live session summary below.
Today, One of the Canonical mobile team members released details of a new distribution based on Ubuntu 8.10 (Intrepid) aimed at 'MIDs' with screen sizes from 7-9″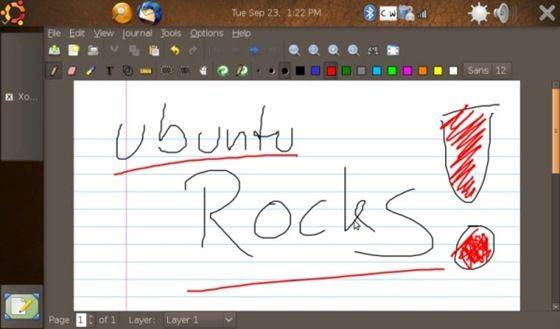 After a simple download and copy to a flash drive the Q1 Ultra booted straight into a live linux session running in RAM and everything seems to work out of the box. Touch, brightness, wifi, BT and more. This is exciting. There's a full software suite withthe Moblin browser (Firefox + grab and drag), on screen keyboard, Open Office, Pidgin, Thunderbird and of course, through the package manager, a whole lot more. [Video after the break]
It appears to be based on Ubuntu Mobile, the Moblin 1.0-based distro that works on Silverthorne and Poulsbo but it obviously works on older hardware too. I doubt it's going to work as smoothly for other ultra mobile PC hardware but the core is defiantly looking good and the app suite is nicely tailored for the screen and even has 3D effects built in! If people start to work out the changes needed for other devices they can feed these back into Ubuntu and the devices will be supported automatically at the next Ubuntu release.
I've just uploaded a video I shot as I was booting up for the first time which will give you an idea of how the system looks. Its currently available as a WMV (1mbps) at Blip.tv. As soon as its converted to flash I'll embed it below.

Details on the new release were published by Oliver Greawert of Canonical today in his blog.
The image is available for download along with some instructions and screengrabs at this website.
Update: The Q1 Ultra works extremely well indeed with this release. H.264 codecs were included, the video and audio apps were good, browser and flash worked flawlessly, touchscreen was perfectly alligned. I'm really impressed. I tried it on an Akoya Mini (MSI-Wind based device) and it was useable out of the box apart from Wifi drivers not being included. I'm sure this is simple to fix. On the SC3, the 'pbs' driver could not be loaded but the touchscreen was clearly working. If some work can be done to get the Atom Poulsbo drivers installed (It might just be a simple case of doing this online from the Ubuntu Mobile repository) then the SC3 might perform a lot better. As far as I know the Linux drivers are more advanced than the WIndows drivers. Am lookinf forward to trying this again. On the Everun note it looked like the graphics driver and touchscreen were working…until I fried the Everun. The battery was low, and in my haste I picked up the wrong DC cable and plugged it in. Everything seemed to be working OK until I plugged in the correct cable. At that point there was a lot of smoke. I think the 30 people watching live enjoyed it though! I tried it on the Wibrain and X hung so there's a graphics driver issue there.
In summary, its a really impressive Linux build. Easily the best i've seen on a ultra mobile PC and a nice, unexpected suprise. A blog entry from a Canonical engineer just doesnt do it justice! Maybe we'll see an official announcement soon but in the meantime, if you run a netbook or ultra mobile PC and want to test it out, get a 1GB flash stick, 'dd' the image over and boot from flash (no danger to disks or data unless you attempt the automated install once Ubuntu has booted.) Advantages out of the box are that there seem to be a good built-in set of video codecs (apparently there's a codec pack that can be pruchased too,) the 3D window management is nice, there are some good finger-friendly features, there's a huge amount of software in the repository, its probably faster and definately less disk hungry than Vista and finally, its free and its an OS that we, the community, can make better without having to wait two years for someone else to make another release.