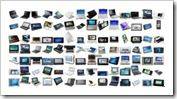 That's Ultra Mobile Devices to you and me and it's a term I rather like. Anyway, back to the story where ABI Research tells us that the UMD market, comprising Netbooks, MIDs and UMPCs. (Don't ask us which definitions they're using!) will reach, wait for it, 200 million units by 2013.
The interesting prediction is that by 2013, MIDs (Lets assume they mean small, handheld PMP-style Internet devices) will surge to meet 68% of that figure and netbooks sales will drop back to second place.
I agree with the general underlying opinion that MIDs and Netbooks will be the big sellers with UMPCs (as pro-mobile devices) remaining niche but the big question is 'when' and 'how' will MIDs take off?
Source: ABIresearch. Via Vunet.