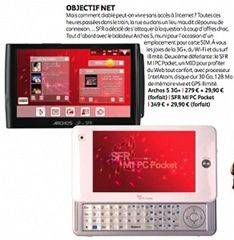 I heard late-yesterday from Intel that the Compal MID was coming to France and was just waiting for confirmation to post the news but I need wait no longer as Stuff Magazine have done it for me. Pocketables have just picked up the story and it makes interesting reading for all of us that are frustrated at the progress in the MID department.
We knew that SFR would carry the Archos 5G and my guess at the unsubsidised cost was between 400 and 500 Euro. It turns out that SFR will sell the 5G for about 280 Euros plus 30 Euros per month. That's slightly more than I expected for a subsidised version but in the right ball-park.
As for the MID (made by Compal – its the same as the Aigo and Gigabyte MIDs under the hood) it looks like it will be branded as the 'Mi PC Pocket' [reach!] and will be slightly more expensive at 349 Euro plus 30 Euro per month. As far as I know, SFR will have to abide by local law and sell these devices unsubsidised and unlocked so expect 100-200 Euro on top of these costs if you want an outright purchase. Hopefully, the UI will be language-switchable.
Notice the offset keyboard on the Mi PC. It's offset to provide what looks like a simple 4-way circular rocker and select button. Also note that it's got a 30GB hard drive.
Apparently there's a press event by SFR later this week tomorrow where the two devices will be formally announced.
Details (based on what we know) now in the database.
Original: jbmm.fr