We continue with the Q&A session with a challenge from A Nonymous (!)
CCC 10. A Nonymous.
Mr N is looking for a mini notebook or convertible tablet as an 'all-round replacement' capable of serious document reviewing, playing CDs/DVDs. Mr Nonymous sums-up by saying it should be a 'home office which can be carried on the road.' Price range, 600 – 1200 (US dollars assumed)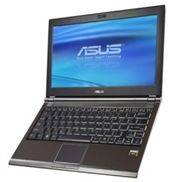 Wow! You don't ask for much do you Mr N. I assume you want it all-in one so we're basically looking at a small laptop here with a 10" minimum screen. 10" is not only a comfortable screen size at 1024×600 (good enough for most work) but it allows the design to include a comfortable sized keyboard. I'm sorry to say that there's really nothing in the ultra mobile PC or netbook range (10", sub $1000, sub 1.5KG) that's going to satisfy you but if we reach outside the pricing bracket bracket, we'll find devices from Panasonic and Sony that include DVD writers. If the LG C1 was cheaper and readily available, I'd recommend it as it's a peach of a 10" pro-mobile device. The ASUS U2E is similar though and prices have dropped right down in the last 3 months. I should also mention the Kohjinsha SX3 which has an 8.9" screen but it lacks processing power. If you can bring yourself to separate the DVD player out to a USB device then you open the door to some possibilities but I'm not going to recommend the Atom platform for Vista-office-on-the-road work. Its possible but not ideal and in most cases you'll have to upgrade memory.  Keep an eye out for Flybook V5 price reductions though. Keyboard and screen are slightly smaller but you'll get a hi-res convertible touchscreen, 1.8mbps HSDPA modem, 2G RAM, fingerprint reader and lovely styling. I'm hearing rumors that prices will get cut on these soon.
CCC 11. Suresh
I'm looking for a ultra mobile PC to install in my new Jaguar XKR Convertible! Requirements are: Screen size between 5 and 9 inches, finger touch screen, Vista compatibility (for running Vista Media Center,) Convertible (i.e. hide keyboard when in slate mode). The device will run Vista Media Center, Browser and GPS based navigation. Needs to have a powered USB port to connect large hard drive with all my music.
OK, apart from giving me too much info about the car (!) this looks like a fun project although I'll say up-front that running an desktop OS in a car is not the safest thing to be doing. I've done it myself but it's dangerous so make sure you look at software like Centrafuse and read the MP3car.com forums before you really decide to go the desktop-software route. If you're looking at Media Center under Vista, you're going to need graphics power. I've never really used a ultra mobile PC that's worked smoothly with Vista Media Center although something like the Flybook V5 (there it is again) with its discreet graphics solution will probably work well. I'd recommend you look at the Samsung Q1 Ultra Premium too though. Although it doesn't have the graphics power of the Flybook, its got great laptop-class CPU power that will certainly help to provide a smooth UI experience. You can get mounting kits for it too and the bright soft-touch screen and tablet form factor will work very well in a car.
CCC 12. Will
Will's going travelling; For a year! I don't want to lug around a laptop, however, I intend to do some writing, blogging online, a bit of photo work etc. while I'm seeing the world. I enjoy playing games and things, but realistically aren't fussed on that. So if you could help me out on a recommended ultra mobile PC that would be great.
This question came up with my Sister just last week. She's planning a 6-month tour and I told her she needed a PC to blog and communicate with. In the end though, we decided it would never make it back as the risk of theft was too high. So, when travelling, make sure you take regular backups Will! If this was me, I'd be looking at something at under 800gm. Preferably under 600gm. I'd make sure it didn't have many moving parts too so that means SSD and fixed-hinge (tablet is good but you risk breaking the screen.) It would need a lot of battery life, XP (for stability) and a minimum 7" screen. The new Raon Digital Everun S16S (available Nov) could be right up your street although its an unknown quantity in terms of build quality. You'll have to upgrade it to XP too but that should be easy. The 7" screen and surprisingly good keyboard is enough for hour-long tabletop sessions and it's tiny enough to pack away almost anywhere. Get a good case for it though. It's got an SDHC card slot (for a handful of SDHC cards from your camera or for backup) and Raon do a nice external charger solution. Buy the charger and a spare battery and you're able to charge one battery while you use the other. Spare battery is a must though as the battery life is only around 2.5hrs. Also note that the Everun takes a long time to charge, presumably because it's got a huge single-cell battery. I've heard that Raon will be building in an external antenna connector too so if it's true, you'll be able to get a strong external antenna for fringe areas. Note that the power adaptor is big so you'll have to look for an alternative solution there.
If the size and unknown build quality of the Everun puts you off, I'd have to say, Eee PC 901 XP (With 12GB SSD.) Its well-built, has superb battery life, has a good track record so far, is cheap and is easy to work with. Its about 40% heavier than the Raon Digital Everun but at 1.2kg's its not exactly huge. The bigger screen will be easier to work with over longer periods.