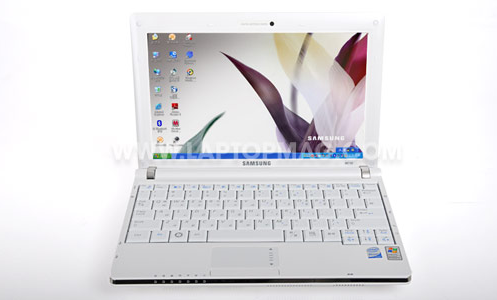 LAPTOP has gotten their hands on a Samsung NC10 [Portal page] that is fresh off the press (the 'press' being Korea). Not content to wait around for a US model, LAPTOP imported an NC10 and it sounds like they really like the machine. Just listen to the opening sentence of their review:
The Samsung NC10 has joined the ranks of 10-inch netbooks—including the Eee PC 1000H, MSI Wind, and Lenovo IdeaPad S10—and it beats them all.
You better believe the NC10 must be pretty good with a statement like that. The review is filled with a lot of positive comments about the NC10, specifically its keyboard and battery life. Back when we first saw the NC10, we had high hopes for the keyboard which appeared to be nice and big. The LAPTOP review says that the keyboard is 93% full sized, and the key placement is nearly perfect. This is great to know when several netbook alternatives have the extremely annoying tiny right shift key, to the right of the up arrow. Unless you are Raon and like to use optical mice to save space on your computers; a large keyboard means that you will have to sacrifice space for some other parts of the netbook, such as the trackpad. LAPTOP tells us that the trackpad is undersized.
In addition to a great keyboard, the NC10 also boasts an impressive battery. A 6-cell battery is standard on the NC10 and will provide you with 7+ hours of use LAPTOP tested the battery with continuous Wi-Fi web surfing and 50% battery life screen brightness; the NC10 responded with an impressive 7 hours and 34 minutes of run time!
Chippy's Update: Laptopmag ran a second test with 100% screen brightness and got just under 5hrs of wifi-on surfing time. They will re-run the tests with 50% screen brightness to double-check that the screen backlight is having such a big effect. In my opinion, 50% screen brightness could easilty add 2W to the overall drain if it's a big, bright screen and make a huge difference. Keep a watch on the Laptopmag NC10 review page 3 for updates.
Swing by LaptopMag.com for the full review.