I'm going to keep this short otherwise I'll end-up writing reams of thoughts (many negative) that are in my head about the Aigo MID I also have (thanks to Mobilx.) I'm going to save those thoughts for my own hands-on post.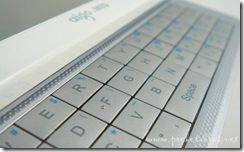 Pocketables have posted a review of the Aigo 8860 MID.  Personally, I think she's being too kind as, out of the box, this is like the Christmas present that wasn't the one you asked for. The platform is fantastic but this product is not for the average consumer right now. Fingers crossed that there are some early adopters that believe in the platform (as I do) and have time and energy to start improving the basic software suite and that Midlinux take their feedback and pipe it back into the software updater. As with all of the Moblin implementations I've seen so far though, there doesn't seem to be any formal channel for this which could put developers off.
More links, info, specs etc in the Aigo MID product page.