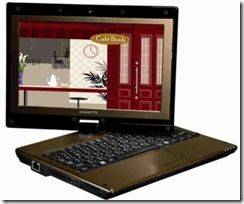 Reminding me of something from an Austin Powers film is this 'Goldenrod' version of the Gigabyte M912x that is now available. Also labeled as the 'Cafe Book' it's certainly going to turn heads in the Cafe. The question is, will they be giggling when they turn away?
Underneath the gloss you'll find a vanilla M912X netbook with the 1280×768 convertible touchscreen.
Pricing appears to be the same as the standard M912X.
More images Via Mobilx.