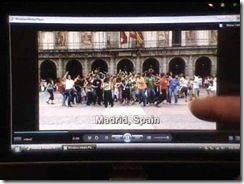 An article on Wired yesterday alerted me to something I've been waiting for for a long time. High Quality H.264 videos on YouTube. [Update: YouTube have now announced a widescreen player.] Medium quality stereo H.264 vidoes have been available for some time using the fmt=18 trick [example] and you can even download them with an easy-to-use Firefox toolbar add-on but the availability of the 1280×720, possibly original-format versions, is a great step forward and with a tweak of that download toolbar, you can download them too which allows netbooks and other ultra mobile PC's to play the files that would otherwise struggle trying to play  through the built-in H.264-enabled flash player. (Video below)
Unfortunately the file I tested didn't work perfectly on the Aigo MID. The frame-rate was about 50% and it could be due to CPU-based scaling to the 800×480 screen. Normally a 2.5mbps H.264 would work on the Aigo but in this case, it didn't. On other devices though, it worked well. With the Raon Everun Note, which uses the AMD Turion X2 and Radeon R690 graphics processor, the files played through KMPlayer  with ease at around 60% CPU utilisation with the CPU throttled-back to 800Mhz on battery power. The quality looked superb, possibly due to some post-processing that the R690 does. On the Medion Akoya Mini, close relation to the MSI Wind U100, the files played back at about 60% utilisation (using K-lite codec pack and KMPlayer's option to use multiple CPU threads) with the CPU at 1.6Ghz. On the Kohjinsha SC3 which has the high-end Poulsbo chipset, the whole video played very nicely through Windows 7 Media player (it has H.264 hardware decoding support built-in) with the CPU at 800Mhz and showing just a 40% loading. See the video demo below.
The video was only recorded at 30fps in 640×480 so you won't see the full quality but you'll see and hear a difference if you go to my blip.tv channel or iTunes (RSS) to watch this video in original 1mbps WMV quality.
It's not known how YouTube will enabled this across the site in the future and whether they will provide their own client-side player or a download facility but if they do enable a set of videos and showcase them in some way it could be a great way to get quality video content for your mobile device.
Via: Wired