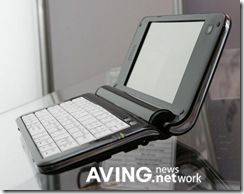 Getting closer to the ever-green PSION 5 design is this PC, yes, Atom-based, design that Aving have just published news about.
Looking just slightly bigger than an Aigo MID, this 315gm device looks like it covers all the angles with 3G and digital TV options, a 1024×600 4.8" touchscreen, 8-32GB SSD options, 1.1 or 1.3Ghz CPU and an SD slot.
It looks like it's due for release in 2009 according to the translation that you can find here. [Original]
Via JKKMobile
If you look at the UMID website, you'll see a placeholder for the MID but there's no info there yet. You'll find an interesting 7" ultra mobile PC slate though that's also a new one on me.