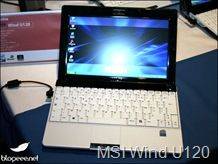 Finally a breath of fresh air in an area of computing where the only major difference in products was appearance and price!
I'm really glad to see some interesting new stuff from MSI. We recently talked about the MSI Wind U120 [Portal page] which is just like the original U100 but with 3G and some increased storage options, but that isn't very exciting is it?
Now news is spreading that MSI will be releasing two additional netbooks some time around January. The netbooks will be the U110 and U115; I've put the interesting things in bold:
1024×600 10" screen
1.6GHz Intel Atom Z530 CPU – which is a more expensive but less power hungry chip (2w) than the Atom N270 (2.5w) which is in almost every netbook you see today
Poulsbo US15W chipset – most netbooks are using the Intel 945G. Poulsbo in combination with the Z530 CPU will make for a total chipset drain of 4.3w
6-cell battery
Up to 250GB HDD for the U110
Hybrid Storage – The U115 will feature SSD and HDD combinations. The idea is that the OS and programs can go on the smaller capacity SSD (8/16/32GB) for quick booting and program launching, then there will be plenty of room for media and other storage on the HDD (80/120/160GB). Computers such as the VAIO TZ have used a similar storage configuration. It will be important to the success of the U115 that this doesn't consume too much power running both drives.
Wi-Fi B/G/draft-N
The rest is pretty common; Bluetooth, 1GB of RAM (up to 2GB on the U115), 3x USB 2.0 ports, 2.0MP webcam etc.
Like I said, all of this is new and exciting to see in a netbook. However, after reading this I can't help but wonder how they plan on keeping the prices down. Nearly everything in this list will run the price up over current netbooks: new CPU+chipset, two storage drives, and draft-N Wi-Fi. We'll have to wait and see but I would image the top end U115 will run you somewhere around $700 if not higher.
[Blogeee] via [Liliputing] [Electric Vagabond]