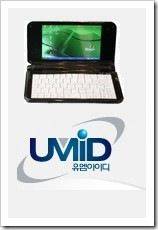 Umid of Korea have kindly sent over a set of new images and the official specs of the nice looking clamshell device we saw a few weeks ago. It's due for official launch in 'early of 2009' which hints towards CES or CeBIT. Pricing is unknown but with those pro-level specifications I would expect it to be more than the Aigo MID variants.
We've added all the details to a new UMID product information page so feel-free to browse the specs, the gallery, the links, see what devices are similar in specification (Fujitsu U2010 is probably the closest competitor in terms of form-factor but the Aigo MID comes closer in size) and take note of a few things. 1 – The battery is 17Wh which, given the lower processing power and smaller screen when compared to the U2010, should give it a 4hrs+, active-online battery life. 2 – The size. It's much smaller than a U2010 so this one should be easier to slip in a jacket pocket.
Thanks to UMID for sending the details over. The device isn't on the UMID website as we publish this but there's obviously a placeholder there. No pricing or territorial info available at this stage.