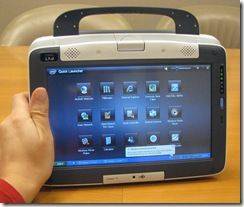 The new 8.9" touchscreen Classmate PC that LaptopMag got some time with isn't going to be most people's cup of tea, but that's probably because it's not aimed at most people reading tech websites! There's a few elements that are worth highlighting though.
Trend. A lot of netbook manufacturers are now talking about touch-screens. Is this a trend that will take off in the mainstream or will it be confined to niche segments of buyer. Will we see slate designs as the next step?
Touch enhancements.  Thought and effort is going into the software development with touch-friendly apps and overlay 'launchers' like we've seen with Origami Experience.
Developing on XP. Considering XP is supposed to be near dead, putting significant manpower into creating new apps for XP hints that there's even more life to it than we might think.
Also known as the CTL 2go, this product is based on the netbook platform and uses a ruggedised housing designed especially for the education sector. Launch is expected at CES 2009.
More details, images at Laptopmag