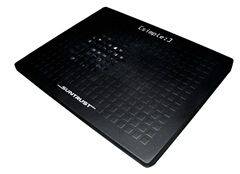 This low cost cooling chassis could be useful for those looking to add a bit more flexibility to their netbooks.
Its comes in netbook sizing (227x180x16mm) with a two-port USB hub, a cooling fan and space for a 2.5" IDE drive. The high-end model will take a slim optical drive.  For the quoted 25 Euro (3000 Yen, base model) including power adaptor, it appears to be exceptional value. More info and pics in the links.
Store (translated)
Source: Impress, Japan.
Manufacturers info
Thanks Robert, for the link.