As much as I hate seeing concepts that we don't yet have the technology to create, I manage to remind myself that the market needs goals to shoot for, otherwise there won't be innovation. That, and it is an excuse to look at some really cool looking gadgets… even if you have to pretend that they exist.
Jkk has highlighted some interesting MID concepts from an Intel sponsored design contest in the Czech Republic this year.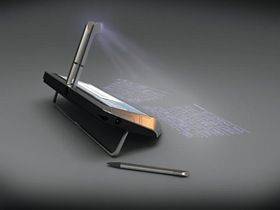 I really like this concept. Actually this one could potentially be produced. See the projected keyboard? Technology like that exists and can be bought today. Infrared projection keyboards have been on the market for a few years, but have had very limited adoption because of their many pitfalls, such as low visibility in highly lit settings, and no tactile feedback for key-presses. I suppose this device looks pretty cool, but its practicality would be limited to the software that powers it. If the interface could be designed so that all functions can be reached through the use of the touch screen, then it could be viable. It wouldn't make sense to allow the only text input to come from the projected keyboard; what would the point of a mobile device be if you had to sit it down somewhere to use it? An on-screen-keyboard would suffice for short text entries (URLs/IMing, etcetera), then you could fold up the keyboard projection armatures for some serious writing. I think they would need to increase the typing experience on the projected keyboard before bringing something like this to market.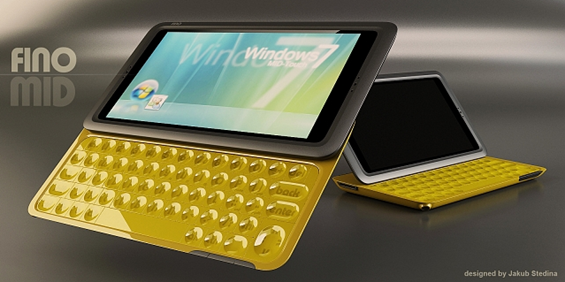 This next one is basically a smaller and slimmer HTC Shift [Portal page]. If the hardware evolves enough that we can see a sleek design like this with decent performance and battery life, I think it will make a great MID. The form factor really has a lot going for it, but the problem is finding the right size for the keyboard. Some people felt that the HTC Shift's keyboard was right between touch-typeable and thumb-board size, and that is a major problem. As for the Windows 7 image on the screen of the rendered MID… I think it would make more sense to use a custom OS.
The main thing I want to see in upcoming mobile tech is the use of capacitive touchscreens. The iPhone and iPod Touch line have the most consistent touch recognition of any touchscreen I've ever used, and in general have a lot of advantages over the current standard that is resistive touchscreen technology. I have always hated having to use a stylus to navigate the GUI of a device because they made the interface based on old principles. I feel that in the future we will start to move away from styli on mobile devices (they will certainly stick around for tablet PC folks, and graphic artists), and that is a change that I welcome with open arms.