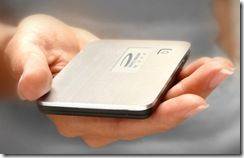 We've been waiting for this ever since we got a whisper from a reseller that it was being developed and the reason is that it could be a significant product for many carriers and a great product for mobile computing types.  The Mifi handheld 3G router is battery powered and allows you to connect to a mobile 3G connection and then share that out via WiFi.
The press release has some interesting content. Take this for example: "an intelligent, open platform capable of hosting advanced software applications and flexible enough to address the continued evolution of mobile broadband."  According to our sources, that means it will be able to host landing pages, implement filtering and even tailored solutions like per-mac bandwidth capping. If Nortel have though about this they will have provided the ability for business users to implement simple charging via a gateway.
If well controlled, it will be a great new product for carriers but if it's sold unlocked with an open SIM slot, there could be all sorts of problems for carriers. Loading an unlimited 3G connection with 10's of users is going to be a killer for the already loaded 3G backhauls.
The built in battery is good for four hours of use and it's scheduled for release in Q1 2009.
Via JKOnTheRun