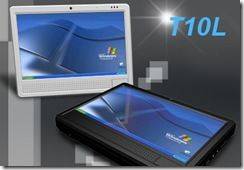 As I was browsing the CES exhibitor list late last night a came across the T10L tablet device. I didn't have time to post about it so I pinged it across to the guys at GottaBeMobile who have put the details up on a post.
CPU: Atom N270
Chipset: 945GSE
Memory: 2GB max
Display: 10.2″ XGA (1024 x 600), LCD, 200 nits
Storage: 80GB HDD
Input: Touch screen
Camera: 1.3 mp
Audio: Built in Stereo Speaker*2(High Quality)
Wireless: Wireless 3945 B/G Network Connection(Mini-PCle)
Ports: 3 USB 2.0, 1 PC card, 1 D-Sub 15 Monitor out, 1 ethernet, headphone, mic
Weight: 2.6 lbs
As you can see, it's based around Intel's low cost platform. At just over an inch thick and at 2.6lbs, its nicely proportioned too. Could this be another cheap Vesa-mount PC or a Grab and Go dockable desktop? I see quite some potential for devices like these if they can be slimmed down a bit. Under 1KG and 20mm think with 5 hours battery and a $400 price tag (why not – its a netbook with a touch layer added and the keyboard removed!) would make it very attractive portable browser and e-book reader and, given a good range of docks and mounts could ignite a consumer slate market. The netbook platform and 200 nits brightness figure really hints of low-cost to me so i'll be interested to see who picks this up.
We'll get this one in the DB later today if we can gather all the info. Amtek specification page is here.