Trigem (TG), the new parent company of Averatec, have just released a new tablet MID under it's Lluon brand. Its the Mobbit and it's running XP!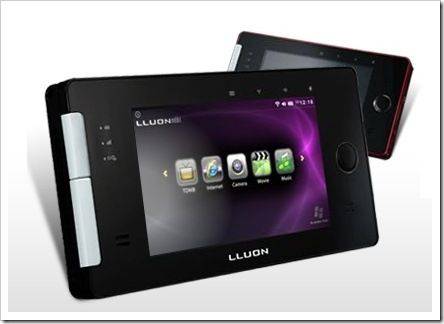 TG appear to have implemented a UI layer over XP which is the first time we've seen this since the original Origami launcher software. Maybe this will give users the best of both worlds but we'll have to see just how deep the overlay software is before making any judgment.
Specs are pretty good too with a 1.3Ghz Z520 Atom CPU, US15W chipset (hardware decoding-ready) 1GB RAM and 30GB HDD or 16GB SSD drive ensuring that XP should be more than usable, especially with that sweet 4.8" 1024×600 resolution. In addition, there's a 2MP webcam, a DMB-T receiver, Wifi, BT and it's nice to see an optical mouse button on the frame. The battery is a 16Wh job which would return about 4-6 hours of use out of the device. Size: 166x88x21. Weight 375gm.
CNet asia are reporting a Jan 2009 launch (CES?) and a local price of just over $400 which is encouraging.
As for the design, it's not exactly the most thrilling. Those left-side buttons could do with toning down for a start and the rear of the device looks very cheap and messy but for people that have been looking at the Viliv S5, this is one that you need to keep an eye on.
Update: Wibro is included. Usually these 3G options are modular meaning it might be available with an HSDPA option in the future.
The Trigem device was one of the 33 that were previously announced but not yet seen in the wild. It's good to be able to tick another one from the list but lets hope it makes its way outside of Korean soon. 
Sources: Akihabara. TG Website. Thanks Oliver, Kevin for sending this in.
More images below. Full specs and links in the database.