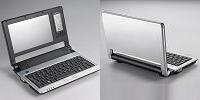 On June 5th 2007, the first real-life into and images about two 7", low-cost laptops were splashed all over the Internet. One was a VIA-based product, the iDot Nano, and the first price estimates were $600. The other was an ASUS product called the Eee PC which had price estimates of $199. We guessed at a 600Mhz Celeron processor and said that there was no way you'd see that in a western market for $199. We were right but in the end, it didn't matter. From that moment on, the eyes were all on the $199 and all because of a lie.
Exactly 18 months later, it's funny to see both devices still in the market. They seem so 'sub-netbook' and a company called Coby does too. They see it as a good thing though and now want to release that original VIA-based design (assuming the image provided in the source article is actually correct) with a new, cheaper processor for $100 in a new cut-price, bubble-pack market. "It's smaller than a netbook but not THAT small" they say. Funny how we forget!
The original Eee and Netbook were always a little borderline in their ability to handle heavy web pages and video so moving to a Loongson processor isn't going to improve things but for the price, I doubt many will worry.
This isn't the first Netbook using the Loongson processor, the Lemote Netbook and Emtec Gdium use it too.
Source:Arkansas IMC