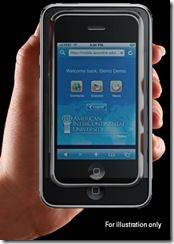 Following Apple's moves is a complex but fun and stimulating activity so here's my take on the big, crazy, risky business of predicting where Apple will move. I think they will move up the Ipod chain rather than down the notebook chain and here's why.
Netbooks are cheap and in my head, I just can't get past that simple thought. Apple can't make a netbook as it would seriously risk de-valuing every other product in their portfolio and, due to the required sales numbers and relative complexity of OS X, could screw their global support operations.  An $899 10″ mini-note is possible, I agree, but despite sizing similarities, it wouldn't be a netbook would it. Mind you, you can guarantee that every netbook web site will cover it like there's no tomorrow! I will end that argument against netbooks there but they do play a part as I get to the details of my prediction below.
There are three other options that I see for Apple. The first is one of incremental change. Small improvements all-round. The problem with that is that the last Apple event felt like just the same and losing momentum right now could be an issue. Then again, major production-line investment for a new product could also be risky but given the fact that Apple have plenty of cash and that there are probably production lines out there just begging for a large production run, maybe that's not the risk it could be.
The second option is some sort of 7″ notebook or tablet. While I, and many of you, like this style of device, we have to be honest and say that the productive ultra-mobility market is probably too niche for Apple. There's a chance of a simple, slim 7″ iPod touch and a push into e-books, sofa surfing, sofa-gaming and turn-by-turn navigation on the existing iPod Touch hardware and software engine but while interesting and, to me, quite exciting, I don't see a 7″ Apple tablet happening as again, it could be too niche.
The third option, and more likely in my opinion is a 5″ iPod Plus
Filling the hole that will eventually be left by dwindling MP3 player sales [Yes, Christmas iPod sales are buzzing along but in general, I see the dedicated MP3 player market dropping away over the next few years] providing some of the features of the above, 7″ device, retaining mobility and building on the money-making app audio and video-store is the key which indicates to me that a slightly larger iPod touch with better storage, video, navigation, ebook, web experience and perhaps data-only 3G would be a more attractive and solid base to build on for the future.
It would extend what the iPhone and iPod touch do right into the high-end of some of the markets it already works in.
High-End Mobile and Home Video. Can an existing iPod play YouTube HD or high-res iTunes video content or output to a screen – No.
High-End GPS+Compass Navigation. Can an existing iPod or iPhone do turn-by-turn or pedestrian navigation – No.
High-End Handheld Web browsing. Can an existing iPod or iPhone provide a full web experience – No
High-End Home and Mobile Gaming. Can an iPod Touch or iPhone be used for external-screen gaming – Not officially.
These are all emerging high-end consumer markets and high-end is exactly what Apple is all about. Nearly all of these markets are as-yet, untapped by Apple in any consumer product they sell and only require an incremental increase on the existing product and existing back-end services to support them.
The device I called the iPod Plus would take the form of an iPod (keeping consumer focus, not business focus) but would be enlarged to have a 4.8″ WVGA (800×480) screen. This size and resolution is regarded optimal for no-zoom, 20-30cm handheld operation for web, ebook reading, navigation and seat-back video playback. 200DPI on 4.8″ is a sweet-spot between readability, resolution and price and allows designers to retain a good level of pocketability.
Given that form-factor then, here are the other things that it would be reasonable to expect given the state of the market, Apples product range and current technical restraints.
Hardware:
CPU: 800Mhz Cortex A8. Proven. Available. 2-4 times processing power improvement. ARM and partners would put a lot of effort into this to showcase their new products into new segments.
GPS module and an electronic compass (needed for auto and pedestrian navigation)
Enlarge the battery to 150% and make it removable. (Due to increased usage model)
Data-only 3G module. Unlocked.  (No voice to avoid it cutting across partner products and to ease a global rollout through carrier deals.)
Improve video and 3D co-processing to enable a step-change in capability in these areas.  (HD 720P and re-stimulate the existing developers to enhance their games and make 2nd versions)
Screen/TV output (digital)
Mid-range built-in webcam
Good storage. 16GB-64GB storage options.
Include an FM transmitter and receiver. (In-car use)
Weigh no more than 300gm. Challenging but possible.
Software
Improve the browser so that it approaches the desktop experience. Flash, extensions, plugins.
Allow the device to run more than one third-party app at a time. ('Gold-partner' third-party apps status?)
Improve the video playback performance to 720p. (Keep up with the YouTubes)
Live widgets/apps on the home screen or standby screen. A must to allow living-room show-pieces as photo-frame, weather indicator, radio, mini TV.
Offer turn-by-turn car and foot navigation options with a huge Internet-connected back-end of core, sponsored and community-supplied POIs. Advertising opportunities exist here. Big ones.
Allow VOIP with Video. Preferably a Skype client on the device. Bringing a consumer-level skype video phone to the masses. Opportunities for Skype revenue sharing. Good brand.
E-book reader software. Again, some excellent revenue opportunities exist here. Kindle has proven that the market exists and will be supported by a new set of passionate users. Some screen technology issues may remain (size, contrast, brightness, resolution) but it should be acceptable for the masses.
Accessories
Offer a docking station which adds hard-disk storage, TV/Video in, digital audio and video out and can stream like a slingbox. Maybe it should inter-work with Apple TV. This is a tough one but done well, it would reel-in many Archos, Cowon and other PMP fans.
Sell a car dash mount with the required connectivity for audio and video to the back seats. (Dual screen operation)  The first consumer-level CarPC? Given the existing touch-focused UI, this wouldn't be too difficult and could be an extension of the existing Google maps app. Revenue opportunities for map subscription and advertising exist here. Regulatory (safety) issues could be big though. Alternatively, partner with auto manufacturers to add docks into cars over the coming years.
Sell a desktop dock that allows the users to run the browser and software on an external monitor with a keyboard and mouse. A mini, low-end, thin-client desktop. Spin this as a cloud computing device and reel-in the customers waiting for a TechCrunch tablet-style device. It would also stimulate more 3rd-party development for productivity apps and by spinning off a new 'productivity' section of the app store, Apple could fix some of the pricing war problems on low-cost software.
Gaming adaptors, controllers.
Whats missing?
The keyboard. Personally I'd prefer a keyboard on this device but I understand that by sacrificing the keyboard you can have better design flexibility and more physical space for the very important battery. For the mass-market, I believe that no keyboard would be a better option.
How much would that cost?
You're adding personal navigation, e-books, tv playback, cloud computing and video telephony. That's a $500 set of consumer products just there! Hardware increases would probably be IRO $150. (3G, CPU, GPS, Compass, FM, TV-out.) Apple have a huge price range between $399 and something like $799 to play with. $599-$699 actually feels right for a launch price range. It retains a quality pricing feel and yet it doesn't cross any existing product pricing boundaries. There's some question about Mac Mini's and Apple TV but there are possibilities to integrate these products. With the right content deals (turn-by-turn, video calling, productivity apps)
How many could they sell?
Interestingly, this is where the netbook market comes in. If Apple could highlight/spin the desktop 'cloud' capability and get the entry-level down to $499 (by removing car navigation elements such as GPS, FM, Compass)  I think they could divert 5-10% of the netbook market. That's a million sales per year at least. Add-in the potential sales from PMP, PND, CarPC, Gaming, E-Reader (web, book, potentially huge in the coming years) I think you can add another million sales per year. Maybe more. It's a growth market too. It's easy to imagine netbook sales growing for another 2 years but the Internet-connected mobile consumer market has more potential when you consider the device categories that are heading into it and a 5-year timescale.
3 million isn't a huge number compared to iPods but its a significant number of incremental sales for the iPod range and, importantly,  millions of new users for the successful, pre-existing iTunes and app-store model. Its also the base for a 5-year product cycle. The margins could be higher than on a netbook (especially as the netbook market develops further across the mass-market time-line) the risk to the existing Apple products would be less and the sales numbers would require less investment in expensive human-powered support. The device and its entry into new markets would also create huge amounts of press and buzz. Potentially more than a low-cost macbook.
In comparison, how many sales would Apple really get from a $699 netbook? 10% of the netbook market is also only about 2 million per year but it comes with such huge risk. Crossing the serious business of notebooks and dekstop software with the consumer market would be a risk that many wouldn't dare to take. Investors would have serious issues understanding the consequences too. I think Mr Jobs would take a similar view.
Update: Techcrunch have some 'rumors' on a 7-9″ tablet.