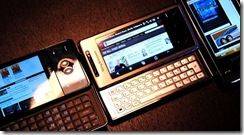 Gizmodo have just completed a browsing speed and accuracy test with three high-end windows mobile devices using Pocket IE and Opera 9.5. The results should hardly be a surprise. There isn't a single reasonable result among them with page load times well over a minute in many cases and very few of the devices rendering the pages well.
In the test, Gizmodo used the Sony Xperia, HTC Fuze, Samsung Omnia and Samsung Epix. Some of the newest WM-based phones you can buy.
Opera 9.5 appears to have turned in a better level of quality and speed than Pocket IE but there's still a bunch of 'fails' in there which would turn off anyone thinking of relying on the given combo.
We've done similar tests here in the past which have proven that, on average, with some of the best ARM-based devices you can find and under good conditions, average page load times are twice as long when compared to on low-end ultra mobile PCs. We've even done some extensive Opera Mobile 9.5 testing and can confirm that while it does render well, it needs a lot more horsepower underneath it than the average smartphone can provide. Nothing in the smartphone world, including the iPhone, comes close to the speed and accuracy of even the lowest-level ultra mobile PC or Intel-based MID so once again I hear myself saying; If you or your business relies on fast, accurate access to Web-based resources through a browser, don't risk problems or waste time by using a sub-standard solution. Don't try and push everything onto one device. Buy a dedicated device. If not for the speed and quality, do it to preserve battery life for your important voice calls!
Take a read of the article and the HUGE bashing that WM gets from author, Matt Buchanan. Its a fun read!
Source: Gizmodo Via Friendfeed