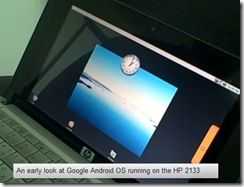 Why are we all so interested in Android on netbooks? Personally I think its the possibility that a major Linux distributor with a big ecosystem and a strong following and brand power could finally push through a useable alternative to XP on the low-end netbooks, UMPCs and MIDs. Intel are working on the same with Moblin and arguably have more resources working on it but it doesn't have a single brand, it doesn't have a distro-wide app store, hasn't received the same media attention and it hasn't passed into the hands of hundreds of thousands of, mostly very happy, owners yet.
Here's another look at Android on an X86 platform. It's a VIA-based HP 2133 mini note. We'll all ask ourselves 'why' again but I think if Android carries on getting this much attention, it won't be long before we say 'when?'
The video comes from Newsandroids in Canada but there's no further info from them at the moment.
In related news, Kevin Tofel and Om Malick had a chat about this yesterday.