Is it because it's Sunday?
A few days ago Engadget posted a rather sarcastic item about the Loam F7. Actually it was spot-on from the consumer perspective because, quite frankly, it looks cheap. The hilarious part of the story comes when they post about the Viliv X70, a device that has similar specs.
Maybe we're just hot for sleek, thin, ultra sexy renders of handheld computing devices, but we dare anyone to call the unit pictured above unsightly (and mean it). Shortly after showcasing its swiveling S7 at CES, Viliv has taken the wraps off of its X70 Atom Communication MID.
Apart from the fact that we highlighted this nearly three weeks ago (our fault for not tipping them!) it seems that they've fallen in love with an Origami device. Check the specs at Gadgetmix.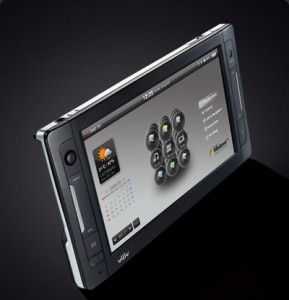 Atom Silverthorne 1.33GHz processor
choice of SSD: 8GB/16GB or HDD: 30GB/60GB
Windows XP or Linux
1GB RAM
optional WiMax module (mobile broadband)
Bluetooth 2.0+EDR and WiFi b/g (no 'n')
Weight: 660g
built-in GPS (Sirf Star 3)
SDHC slot
dimension: 210(w) x 117(h) x 22.5(d) mm
Apart from the 22.5mm depth, it's nothing different.
Mickey-taking aside, it does prove that people are susceptable to a nice design, whatever it is. There's always been a possibility that a ultra mobile PC or MID would berak through and this article from Engadget underscores that.
Viliv uncovers gorgeous X70 Atom Communication MID – Engadget.