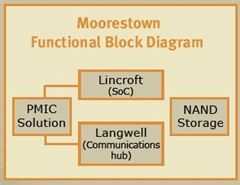 If you're into the discreet component level of MIDs, you might want to check out this press release from NEC.
NEC Electronics America, Inc. today announced that it will highlight its power management IC (PMIC) technology at the International Consumer Electronics Show (CES®), January 8 – 11, 2009. The live demonstration will feature NEC Electronics' PMIC solution for Intel's next-generation Mobile Internet Device (MID) platform, codenamed Moorestown.
NEC were involved with the power management IC's on Menlow so this is nothing new for them. For us, it might be a chance to see a Moorestown demo if someone can get themselves over to the NEC booth and register for a private demo.