Spotted by our man at CES. This tablet UMPC…
Update: Its the Samsung Q1EX.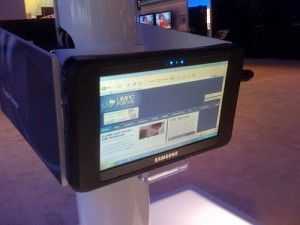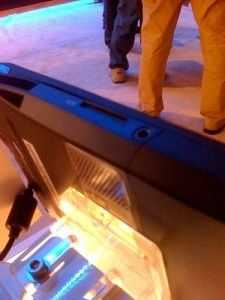 Samsung, originally uploaded by UMPCPORTAL@CES2009.
As we expected 7″ without keyboard. More as it develops…….
Update: VIA Procesor. Maybe its for developing markets if its a C7? Or maybe its a Nano?
Update2: Its a VIA Nano CPU.
Processor: VIA Nano U2500 1200mhz
HDD: Samsung HS082HB
Network:Bluetooth Pan network adapter, Marvell sd8685 wireless LAN sdio adapter
Imaging devices: USV2.0 1.3M UVC WebCam (seems to be in upper middle of the back of the device)
Update 3: GottabeMobile have an article confirming it's the Q1EX. GPS, Wimax are included and it gives  4.5hrs battery life.4.5hrs is dissapointing for such a, seemingly, thick ultra mobile PC but maybe the Nano gives it the ooomph required for on the go video processing? Something for new-media journalists?
Credit EC, our man on the floor at CES.
More photos coming through on our Flickr stream from CES.