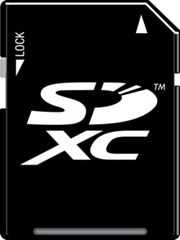 SD cards have always been handy items for the mobile user. If you've got a set of kit that uses it, it's often the quickest way to transfer large amounts of data but with the SDHC limits being way below what most people would require for, say, a large music, video or even photo library, it can't really be used for serious storage.
SDXC is the next in-line standard from the SD association and it promises to break those limits by offering storage up to 2TB. The other interesting thing, for mobile fans, is that they would be fast enough to perform as small, cheap drives meaning mobile device manufacturers can offer a basic OS and let the reseller or user make up their own storage offerings. I assume it will push the price down too. I wouldn't expect them to have the error correction or wear-leveling that SSD drives have but with a theoretical TX rate of 104MB these would be perfect as storage devices.
The standard is expected to be ready this quarter so expect mainstream devices next year.
The next-generation SDXC (eXtended Capacity) memory card specification, announced today at the 2009 International CES, dramatically improves consumers' digital lifestyles by providing the portable storage and speed needed to store weeks of high-definition video, years of photo collections and months of music to mobile phones, cameras and camcorders, and other consumer electronic devices. The new SDXC specification provides up to 2 terabytes storage capacity and accelerates SD interface read/write speeds to 104 megabytes per second this year, with a road map to 300 megabytes per second.
Press release. Via Gizmodo.