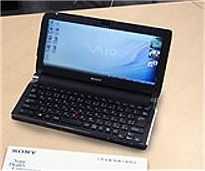 Update: Some specs were sent to us. Apparently they're from a 'reliable' source. See below.
If you scroll down on this CNET Asia article you'll see an image of an ultra-wide Sony UMPC. There's no confirmation that it's the real deal but it looks like its about the right dimensions to match previous leaked info.
Also in the article is a mention of a new Q1. Are these just CES wishes or does Kevin Kang have some inside info?
Sony P-series, "Netbook" design finally leaked? – CNET Asia Blogs: DigiHunter by Kevin Kilmo Kang, Korea.
Update: The image is, apparently photoshopped but i'm hearing that it's close to what the device really looks like. I also got some specs sent in: $800, Z520, 2GB RAM, GPS and UMTS. Unconfirmed of course, but apparently via a trusted 'relay' and apparently from a reliable source.