The Viliv S7 has been in the pipeline for a while now and is way up there on my personal 'watchlist.' We heard that the S7 would be on display at CES so thanks to some group digging (hat tip to the great bunch of people in the live chat room as I type) we've found the official info. There's a couple of nice pics there too. Strange perspective but you get the idea….tasty! Far nicer than the 'raw' version I saw, but still enjoyed, at the Intel Developer Forum last year.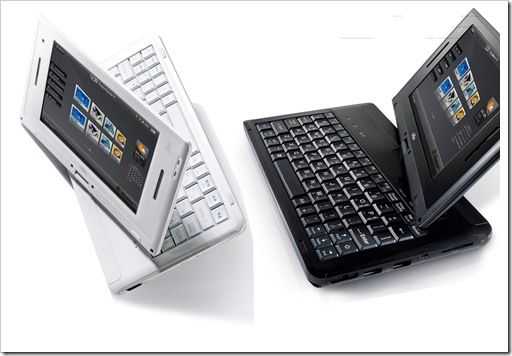 Specs are pretty much as we already have in the database. (Note: S7, S5 and X70 Atom promo info is on the myviliv website.)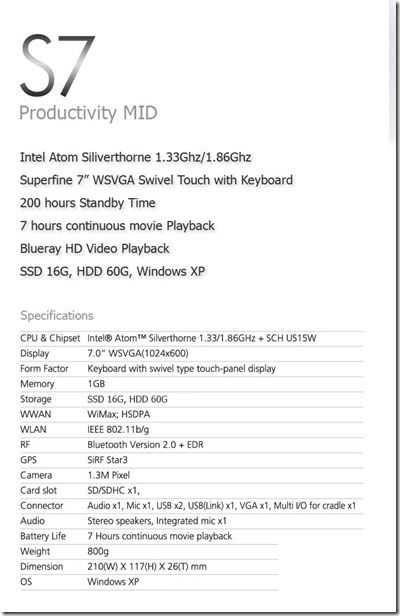 Some interpretation is probably worthwhile here. 200 hours standby means you can leave it by your bed in standby for a few days and just fire it up in 5 seconds. 7 hours continuous movie playback would equate to about 5 hrs online web browsing. 'Blueray HD Video Playback' refers to the hardware video decoding capabilities of the Poulsblo / ICH chipset. It can handle 1080p (with the right software.) The keyboard I tried was excelent quality. 800gm means it's possible to hold it in one hand as a 'reader' and the 'Multi-io' means you get access to a number of ports (vga, ethernet etc.) on a breakout cable.
Here's the gallery from my hands-on at IDF and I've embedded the hands-on video below.
Source: myviliv where you'll find specs on the S5 and X70 Atom too!