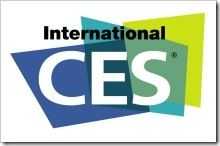 Before it gets too late and CES becomes a distant memory, I wanted to thank all the bloggers that were out in CES providing detailed news, images and videos for the rest of the world to see and enjoy. You kept us busy for many many hours here at UMPCPortal (I'm still not able to sleep in my local timezone yet!) and it was almost impossible to keep up with all the content at times.
Special thanks goes to Sascha Pallenberg, Jenn Lee and Kevin Tofel who all called in for quick podcast recordings, to Brad for some great netbook coverage and Gottabemobile for their usual high standards of reporting. Engadget did a fantastic job.  Also thanks to Lora Heiny who organised the tablet and touch meeting which many of us enjoyed live over Ustream. Finally, thanks to the 850 people that dropped into the live session over the four days where JKK and I did a scary 45 hours of live streaming. The feedback in the chat room was amazing and definitely helped us to keep track of that latest and best news items coming out of Vegas. Star Member award goes to 'EC' who spotted the VIA Nano-based Samsung Q1EX and even called in from the floor. We owe you EC!
You can find all the CES podcasts in the RSS feed and, currently, on the front-center column on the homepage. We'll be going live soon for a roundup podcast, probably on Friday evening here. Follow twitter for latest announcements about that.
JKK, Sascha and I, the three Mobiteers, have already booked an apartment in Hannover for CeBIT 2009 starting on March 02. Hopefully we can repay some of the hard work done by those now suffering with colds, blisters and lack of sleep!