NOTE. This article was written in 2009.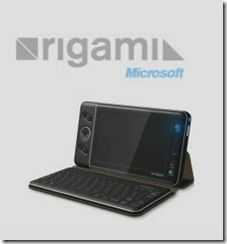 Three years ago today, Microsoft's Origamiproject.com went live as a teaser website. [See original teaser page] One of the people to spot it was 'Designtastesgood' who appears to have lit the fuse by sending a link to Robert Scoble who effectively posted another teaser. Engadget's editor-in-chief at the time, Ryan Block, picked it up, added an image he'd acquired and wrote an article that evening which has 190 comments on it. If you have time, scan through them!
"So today Microsoft officially flipped the switch on the buzz machine for their Origami Project — an atypical viral marketing manuveur for a company whose products are usually known about years ahead of time. Scoble says its a device, the Internet's lighting up with rumors — is it the Xbox portable? Well, we dunno, but as usual got our hands on some pictures. And as usual we can't guarantee they're the real deal, though we are pretty confident in their source. So, let's go over it: these were sent to us detailing it as a Microsoft portable media player, which wouldn't be too far off from what Jobs and BusinessWeek both prophesied Microsoft doing (despite being pretty broadly denied from within)."
Techmeme only just picked it up but it when Kevin Tofel of JKOnTheRun spotted a video link in the Engadget comments (credit 'Monk') and blogged it at 3:40pm, all hell broke lose. By later that evening, many people had re-blogged the news. Here's a snapshot of one of the Techmeme pages from the next day, 26th Feb 2006. After another two weeks of teasers, Origamiproject.com finally went live after the CeBIT launch of what was effectively a small, low-end tablet PC which didn't quite take off as hoped.
There are some interesting blog posts by the Origami team on the Origamiproject site. This one, explains how the teaser site went viral because of the video (shown below) and picked up a couple of million views in just a few weeks. This article by Otto Berkes, the man behind the concept, explains how Microsoft backed away from a 4″ device because of usability feedback about XP being bad on such small devices. Ironically, one of the most interesting UMPCs of late and one that sold-out in 15 minutes on it's Korean debut yesterday is a 4.8″ Windows XP Tablet PC with almost the same specifications as Origami devices of 2006. Only the size is different.
You'll also see my first comment there which asks "why we don't see a keyboard on a device that is perfect for emails, real-time IM and blogging?" That question received the following answer: "Ultra-Mobile PCs can be used with USB or Bluetooth keyboards, and I expect keyboard peripherals to be a very popular accessory."
Look at the 'Haiku' concept that was at the center of the Origami project vision. They wanted to produce slick, tablet-style mobile Internet-connected devices at low prices. The problem was simply that the technology wasn't there, the technology was expensive and the OS wasn't optimised. There wasn't enough early-adopter demand to carry the concept through the first few iterations while technology, pricing and operating systems caught up with the vision. Today, a 'Haiku' might be possible but with an unstable economy and the successful existence of netbooks that were built on the exact same technology used for Origami devices, it would take something special to succeed in pushing through to mass market acceptance. As smartphones become MIDs with dedicated operating systems and high-powered processors, there's also pressure from below.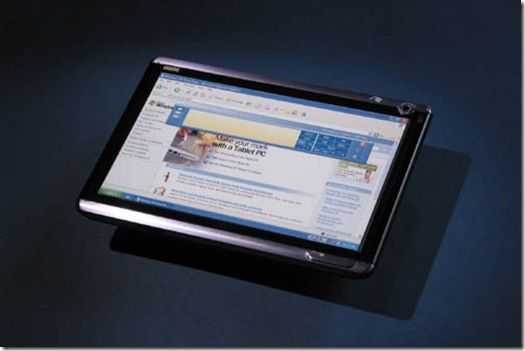 Origamiportal.com, the website that migrated into the website you're reading now, was up and running just 24 hours after the initial Origami buzz with it's first ever article highlighting the viral video that really seeded all the activity around the Origami name. I notice that it didn't credit the original source of the video. [Apologies to 'Monk' and Kevin Tofel on behalf of Roy and Terry, the owners back then.] A few weeks later, Origamiportal managed to pick up the first ever pic of an Origami device was heavily re-blogged, hit the top of Techmeme and got 577 Diggs! It became quite the popular website and forum after that!
Carrypad, the blog I started, was also on the scene. It, coincidentally, started just three days earlier. Carrypad bought Origamiportal in early 2007 which migrated into UMPCPortal in March 2007. I left my job and went full time as a 'pro' blogger very soon after that. Despite the death of Origami, the market continues to grow with netbooks, MIDs, smartphones and UMPCs all offering something unique in the ultra mobile computing market. The mobile personal computer is already here and that's what i think Origami was really all about.
Life goes on now and as the mobile computing market continues, UMPCPortal will stay with it. We have an intelligent, active, focused community and a steady readership of around 250,000 readers per month which should allow us (that's myself as owner/editor, Ben as contributor and Kornel, Mikey and countless helpers and tipsters) to continue into the future. An Origami 'success story' one might say!
Thanks to Microsoft, Otto and his team for providing an early 'leg-up' that the ultra mobile computing market has truly benefited from. Through Origami and the mobile computing ecosystem that built up around it, we've all learned a lot and I'm sure we'll continue to see those Origami visions in future mobile products.