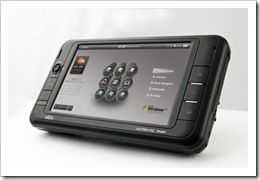 An email in from Viliv this morning highlights that the Viliv S5 will have haptic feedback on it's touchscreen adding another feature that sets it apart from the rest. With XP and an overlay UI, a big battery that should see 4hrs screen-on, online use and 6 hours video playback (we estimate about 10 hours of audio) and 200 hours of standby (device not active) there's not much that can touch it (ahem!) in the 4.8 tablet market. In theory, a slider keyboard would be nice but then you'd lose some of that battery capacity in order to keep the sizing sensible.
As a communicator, mobile browser, PMP, PND, storage device, ebook reader, dictionary and dockable PC, this is way up there with the best of the current choices. In fact, in a poll we started today, it's currently level-second as the most popular of the current crop of UMPCs. On the product portal, it's the number 3 most-viewed device over the last 7 days.
We're expecting samples to start reaching distributors soon, an appearance at MWC (Booth 2A31)and Viliv say that people will be able to 'touch S5 in March.' I want to touch one now!
A new set of PR images have been forwarded to us and they're now in the S5 gallery. More information and articles on the S5 available through the S5 information page.