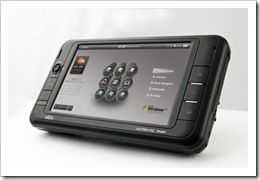 Back in Dec we heard that the local launch price of the Viliv in Korea would be "(US$388 to US$543)" and today we've learned via an email from Viliv that the US retail price will be $649. Luckily, the Viliv S5 Premium that is going to be sold in the US (and I assume anywhere else that ultra mobile PC retailers can import and sell it) is a high-spec model running XP in 1GB on a 1.3Ghz Z520 CPU with a 60GB hard drive and a 1024×600 screen. I can tell you from my experience with the Wibrain i1 that runs exactly the same specs, it's a pleasurable experience. The 'Premium' also comes with GPS, Haptic feedback and the Viliv UI and on-screen keyboard and that big, 17Wh battery which, again based on my work with the Wibrain i1, should return 6hrs screen-off/wifi off and 3-3.5hrs with wifi on, screen-on. That's 3.5 hrs of very fast web access; [UPDATE: We're checking on the battery specs. Previously we heard it was 24wh battery.  We might have made a mistake on that 17wh figure.] 24wh 22.9wh battery (confirmed) which again, based on my work with the Wibrain i1 should return 10 hours screen off/wifi off and 4hrs with wifi-on screen on.
The i1 returns an average sub 10 second-per-page web experience (Sub 5-second with the no-script plugin – 4 times faster than the best smartphones!) and in terms of javascript power:weight ratio, was the best that I've ever tested. There's no reason to believe that the S5 will be any different.
More Viliv S5 details including specifications and news links available here.
In addition to the information that came in the email, we've managed to coerce some information about the missing 3G out of Viliv. Apparently the HSDPA version is still going through certification and is planned for Europe and for those with WiMax in their area, Viliv also have a model planned that will cover that too. In terms of pricing, the going rate for a 3G option runs at between 100 and 150 so $799 seems likely.
Overall it's looking like a good price for what it is. The lack of keyboard is going to worry some but as a media consumption device, pmp, pnd and fallback PC, it's really a huge step forward from what we saw even a year ago.
Update: US shipping expected at end of March.
Finally, there's a new video available here showing the S5 running itunes and coverflow. Expect more videos and review information soon as sample devices have already gone out to Korean bloggers.