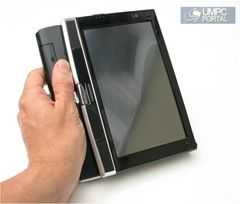 Vye Computers in the UK have long had a relationship with KJS/Inventec who design and manufacture the Kohjinsha range of Ultra Mobile PCs and netbooks but they have now decided to tighten that relationship by becoming a direct distributor of the KJS devices in the UK.
We've spoken to Vye and picked up information on their first offerings under the Kohjinsha brand prior to their launch next week. The first devices will be the SC3 and SX4, 7″ and 9″ convertibles. While these might be known models (I have an SC3 myself and the SX4 is based on the existing SX3) there are a few important differences that make them more interesting than they were before.
XP Home option
Embedded 3g option
Competitive pricing
UK Keyboard
For example, the SC3 with Windows XP  and embedded 3G will be selling for an RRP of 699 pounds making it a much cheaper option than the Sony Vaio P that it shares many specifications with.
7" WSVGA Touch Screen (1024 x 768)‏ [That probably should be 1024×600]
Intel Atom 1.33ghz
XP Home
Embedded 3G
1gb Memory
80gb Hard Drive
1.3 Mega Pixel camera
Built in Speakers/Built in Microphone
Full QWERTY keyboard
2 x USB, RJ45, Multi Memory card Reader, Express Card Slot, Ethernet
WiFi, Bluetooth
Dimensions (WxDxH) 189mm x 155mm x 33mm
Weight 820g with Standard Battery
Standard Battery Life 2.5 – 3 Hours
Suggested Retail Price Inc Vat From £699.99
Other models will include GPS and Vista options.
Having tested the SC3 extensively I can tell you it's got a fantastic screen (bright, rich) and the convertible touch screen rotation gives one of the best reading experiences I've had yet on a UMPC. The device can handle 1080p H.264 given the correct drivers (Cyberlink PowerDVD works well) as the chipset has built-in video codecs. The build quality is very good and there's a good range of expansion ports. Memory is easily upgradable too. On the downside, the battery life can drop down to the 2hr level (an extended battery is available) if you use the device hard and there's very little 3D graphics power. We're going to contact Vye to see if we can get an SC3 with XP and 3G because it could be a good alternative to the Everun Note and Sony Vaio P and with XP, a much leaner and faster-booting system.
Launch is planned for 26th Feb so we'll have reseller/url details then but in the meantime, check out our SC3 and SX3 product pages, keep an eye on http://kjs-uk.co.uk/ and follow http://twitter.com/lwrigglesworth on Twitter for updates.
Update: In related news, JKKMobile reports on lower cost SC3 import options.