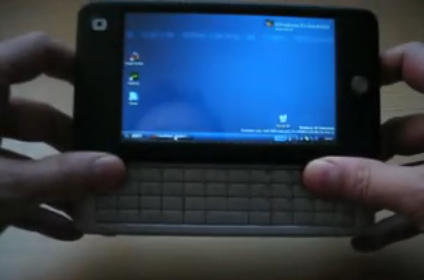 Maybe they jumped the gun several years ago when people set out to fit a full-featured computer that would fit in your pocket… it doesn't matter though because that is all behind us now. Steve has already shown you the video, but I wanted to make sure it was dually noted, and share a few thoughts of my own.
Jkk has taken an Aigo MID, and done some serious customization work, turning it into a very responsive, attractive, and pocketable device. If you like the concept of a real computer in your pocket, don't miss this video.
Jkk sent the unit out to get a carbon fiber graphic around the screen bezel, and had a matte coating put on so it wouldn't be a glossy fingerprint magnet. These changes helped the Aigo suit jkk's aesthetic taste, but some additional modifications make this enhanced Aigo unit a serious UMPC. He has attached a secondary battery to the back which manages to maintain a thin profile (sticking up off the back of the device by only a few millimeters) but bumping the battery-life up from 2 hours to around 5 hours. Using Windows XPe (embedded), jkk has managed to make this thing super-responsive and great for web browsing. I'll tell you that I'm personally very impressed with the responsiveness of the unit; watch the video and you can see for yourself, multi-tab browsing with smooth touchscreen inertia scrolling. Remember, this isn't power, this is response; the Aigo is only running at 800MHz but manages to look that good while doing it. The Aigo is also loaded when it comes to connectivity. Inside is WiFi, Bluetooth, 3G, and GPS.
What strikes me about this is how great this modified Aigo appears, but at the same time, I wonder why it took the ability of one smart guy to make it happen when there hasn't been something like it released from a company that has lots of money to put in to R&D.
Of course this isn't the final solution. The Aigo is still somewhat lacking. The SSD in the Aigo is very small, and not too fast either. There isn't a mouse pointer (as the unit wasn't designed for XP), and jkk says the keyboard, while decent, could be better. I'm really impressed with the steps jkk has taken to turn the device into an amazing ultra mobile PC and I can only hope some companies out there take note: this is the type of device we want!