Update: All specs now in the product database.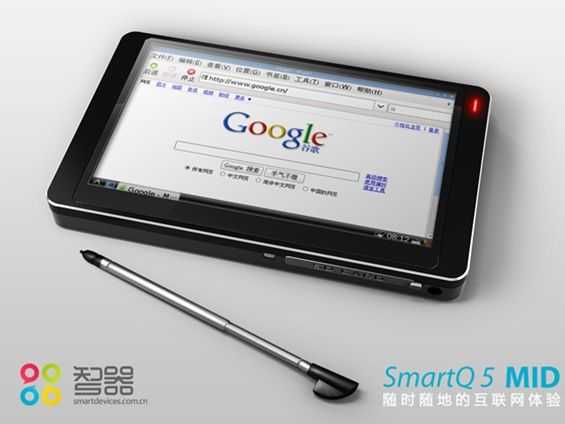 Over the last few weeks we've seen bits on information on the Smart Q5 MID, but today it looks like we've got the official details.
1GB storage, 256MB available to user
667MHz ARM11 processor
SD expansion slot (up to 32GB)
2,000mAh battery
4.3-inch WVGA (800 x 480) display
USB On-The-Go (OTG)
Bluetooth 2.0
120 x 74 x 14mm; about 160g
WiFi (not confirmed, but assumed)
Linux OS
Nothing too exciting here, but for an inexpensive little web device it has all the essentials. Bluetooth means that you should be able to tether to your phone for an internet connection, and of course hook up any other Bluetooth peripherals (to make up for the lack of a keyboard). I still feel like this device wouldn't really be a productivity device, but instead a nice pocketable portal for consuming web content. I imagine it being good for single-service use around the house, such as a twitter box, instant messenger, or dedicated Google Reader. The unit is purportedly going to sell for around $132.
At this point, there isn't any confirmation about whether or not it will be released in the US.
[CNET Asia] (Thanks Sean)