Mobilx have just informed us that they've got a sample Gigabyte T1028M TouchNote in and have already upgraded with 3G because the antenna is pre-wired. There's also a pre-enabled SIM card slot.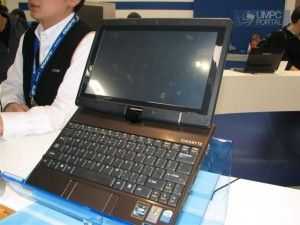 They also have prices. The T1028M will come in at 573 Euro (inclusive tax) and is expected to ship out in about 5 weeks.
mobilx webshop – Gigabyte T1028M TouchNote.
Prices are also up for the S1024 Thinnote, the 890g lightweight 10″ netbook. 528 Euro inclusive European taxes.
For more info, check out Mobilx. We'll get these devices in the database ASAP
All three 10″ Gigabyte Netbooks are now in the database. T1028M S1024 Thinnote M1022 Booknote Thanks Brett.