I briefly mentioned this back in late 2006 so I was surprised to see it in the flesh at CeBIT 2009 yesterday. Rather disappointed to hear that it still hasn't hit the market though. Fortunately for ROAD, they were way ahead of the game so they've still got a chance to get this out without the specs looking too outdated although something tells me that the 2.5G data capability isn't going to impress too many 'road' warriors .  JKK and I did a quick video overview of the device which you'll find after the jump.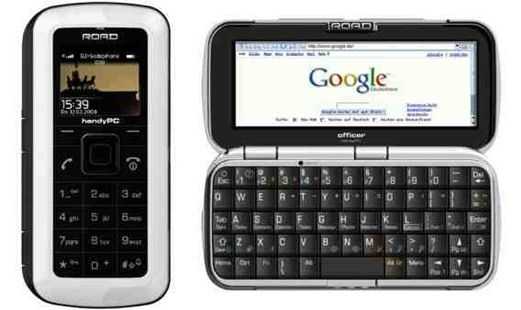 Full Specifications:
Processor Marvell PXA270 at 512MHz
Memory 128MB RAM and 512MB Flash
Battery 1800mAh Lithium-Polymer
Linux kernel 2.6.x with graphical user interface Qtopia
Phone
– Display: color 128×160
– Keyboard: 21-key standard-phone
– Audio: microfone and receiver/speaker
– Alarm: acustical/optical/vibration
PC
– Display: TFT color 640×240 with touchscreen
– Keyboard: 63-key PC-compatible
Multimedia
– 4 external keys for control
Camera 1,3 Megapixel (optional)
Battery Life: Phone: 4h active, 7 days standby
Battery life: PC: 5h active, 30 days standby (phone off)
Wireless Connectivity
– GSM Triband (900, 1800, 1900 MHz) with EDGE/GPRS Class 12
– WiFi 802.11b
– Bluetooth 2.0 EDR, class 2 (30m)
Hardwired Connectivity
– USB 2.0 OTG Microjack AB (Host/Client), incl. charging
– SD-card 2GB (+SDHC compatible) and SDIO
– headset or stereo headphone
P.S. Excellent keyboard on this device.