I've been asking questions in my head about this one ever since I saw it crop up at CES. Did Samsung produce this as a new ultra mobile PC concept or did a big customer put an order in for a specific device for a big project? Or are they trying to re-ignite the tablet pc or jump the 'reader' market?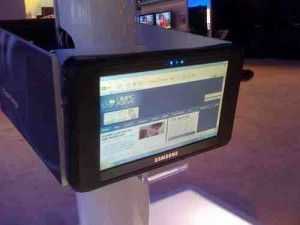 For ultra mobile PC and TabletPC fans though, this could be interesting. Navigadget have spotted a GPS in the specs (indicating that Samsung might be targeting the transport industry?) and if it's got a heavy touchscreen, it could be a great little TabletPC option.
It seems strange that Samsung, with their knowledge of both ultra mobile PC and Netbook markets, would produce a new ultra mobile PC out of the blue so my feeling is that Samsung are aiming at a specific customer with this one which means pricing will come with the usual premuim.
We should be getting hold of one in the next month so we'll bring you the full details then. In the meantime, check out a few pics, some details and a possible price at Navigadget