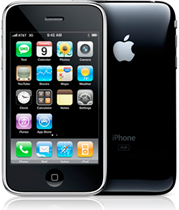 This weekend brought some relatively nice weather and I thought it would be a good time for a hike. With some friends I went out to a local preserve, hiked up a large hill, and we had a mini picnic and enjoyed the warm weather. On our way back, we decided it would be a good idea to not go back the same way we came (which involved using a bridge to cross a river), but instead walk down the length of the river and find a downed tree or thin gap that we could cross. We came to a 'good' crossing point that had a pretty lengthy jump to a lower bank, but it would get us across. A friend leapt across and I tossed him his gear. It was my turn to jump and after a nice running start I was about to go flying through the air to the other side, when the bank gave way. Short story even shorter, most of me ended up in the water. This included my iPhone 3G which was on my belt. My first mistake was not tossing my phone to someone on the other side, and my second mistake was trusting the edge of the bank to be a good jumping point.
Anyway, the iPhone shut itself off immediately and wouldn't turn back on; I wasn't surprised. The phone was only submerged for a few seconds, but it was plenty of time to short some important connections. After a wet drive home, I knew what needed to be done. I pulled a bag of rice out and poured it into a bowl, then buried my iPhone in it. The rice quite readily absorbs water, and if there was any hope for the phone, the rice bath would be the thing to bring it back to life. After several hours in the rice spa, the iPhone powered on! This was a good sign, but it wasn't completely functional yet. The hardware buttons were shorting out, and the phone constantly thought someone was holding the volume down button and the power button. I used the included SIM ejector key to eject the SIM card from the SIM slot on the top of the phone. This was good because there were visible water droplets covering the SIM card which would have caused problems later. I dried the SIM card and SIM card holder separately and put the iPhone back in its rice bath to try to continue to extract water from it, and hopefully get the hardware buttons back to a working state.
By some inconceivable occurrence, there were two grains of rice in the bottom of the SIM slot several hours later when I checked the phone again. I discovered these after the SIM would not go back into the phone. The SIM slot is a very slim space and it was really hard to see inside. I had to close one eye and line it up with an LED flashlight to be able to see the rice down there. The SIM card contact points are springy and jut out into the middle part of the SIM slot, trapping the rice and making it very hard to remove. The slimness of the space made it hard to get tools down there and around the SIM contact points to remove the rice. All-in-all, I spent at least and hour and a half looking into the slot with a flashlight, then trying to get the rice unstuck using a pocket knife and a paper clip. This was not a fun process, but after much toiling, I finally freed both grains of rice from the SIM card slot.
By this point, the phone's hardware buttons were functioning fine. I did a restore of the software just to be safe, and had to reload all my media, which took a little while, but it was much better than being without a phone for several days and having to buy a new one.
The moral of this story? Rice not only tastes good, but can bring a soaked gadget back to life. If you are ever in a similar situation, get your device into a bowl of rice ASAP and leave it for several days to give it a fighting chance.
So that was my weekend, did any of you do anything fun?