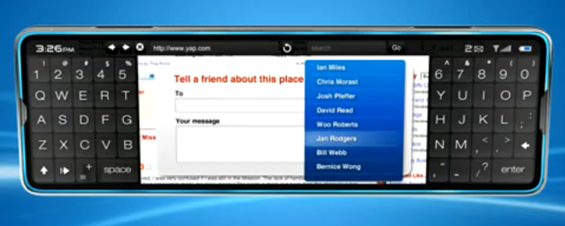 As time draws closer and closer to the time when Intel's Moorestown platform is due to be released, I've been looking around at some of the concepts that they have been showing over the last year to get an idea of what we'll see when the Moorestown platform hits. Moorestown is a platform for an upcoming set of devices that will blur the lines between smartphones and MIDs. Chippy used the term 'MIDphone' not long ago in an article about a voice capable software stack that would be making its way to Moblin (a MID oriented OS). One of these MIDphones that you will probably recognize is, at this point, nameless, but many have said that it looks to be a super-wide iPhone (let's call it Moorestown X). A little while back, Intel released three videos showing concepts of what they want a device like Moorestown X to be able to achieve with the platform:
As I look at these videos and compare similar hardware that we have access to today, I get quite excited to see if something like this can be delivered. Obviously the videos above are simply conceptual, but if they could deliver functional software that is even half as polished as what we see above, it would make for an excellent device, as long as the Moorestown platform is really up to the task of delivering this experience with the battery life that people expect from a phone. Moorestown is purportedly going to consume ten times less power while idle than current Atom platforms. Concepts like these always make the software look good, but I hope they spend some serious time on the GUI if they are planning on bringing a similar product to market. I can't stand the idea that the eye-candy would get in the way of productivity.
It seems like some of the focus on Moorestown has been shifted in light of the success that Intel has been having with their Atom platform, which powers an incredible amount of the netbooks that we see today. As far as we know however, Intel is still hard at work on Moorestown, and as soon as they complete their work, which should be in late 2009 or early 2010, we'll start seeing hardware that should change the way we think about pocketable computing.
It is interesting to me to think about what will happen to devices like the iPhone and upcoming Palm Pre when they are put in perspective with the kind of devices that we could see coming from Moorestown. Competition always functions as a driver for innovation, so I think its safe to say that the release of the Moorestown platform will be good for everyone in the long run.
Thoughts on the Moorestown vision? What would you be willing to pay for a device like the Moorestown X? Are you excited about the upcoming platform if it could bring products like this into the smartphone/MID space?