We managed to get a guide price for the S5 while we were talking to Viliv at CeBIT yesterday. Viliv told us that the model that will ship outside Korea (Intel Atom Z520 1.33GHz processor, 1Gb RAM, 60Gb hard-drive, 4.8 inch 1024 x 600 touch screen, 22.9wh battery and GPS hardware)will be priced at a recommended 699 Euro or below which means that Viliv are probably giving resellers enough room for a 649 price point.  649 Euro is a high price. Higher than I expected and without 3G too. HSDPA is planned for Q2 I understand and will cost an estimated 100-150 Euro more. Is it still worth it?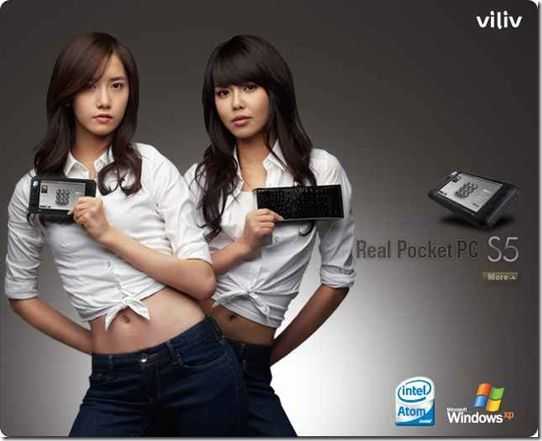 I tested the Viliv S5 again yesterday and spent a good 30 minutes playing with the haptic feedback keyboard and launcher application. The touch screen is amazingly light and when combined with the haptic feedback on the keyboard, makes for a very usable experience. Of course it will never get around the fact that an on-screen keyboard takes up space and you'll have to deal with this annoyance while also learning the quirks of the on-screen keyboard but if battery life is high up on your list and you're prepared to take-on the learning curve, the Viliv S5 is going to provide you with one of the most powerful, no, i'll say the most powerful pocketable Windows experience ever.
A few other notes:
Joystick is still a cursor control. It's such a shame they didnt implement a mouse here. GPS is standard on the Viliv premium models but it won't ship with navigation software (Take a look at JKK's StreetDeck demo on the S5)
Build quality seems very good. No flex. No creaking. Quality buttons.
6 hours real battery life is being confirmed both by Viliv and others.
1,33Ghz processor is fast for web browsing. Expect sub 10 second average page load times and swift web-based applications.
Screen brightness is as good as any I've seen apart from the ClarionMiND.
I tested Google Earth and was surprised to see better 3D performance than I expected. Not fantastic, but certainly better than I've seen on, for example, the Wibrain i1.
I couldn't test the speakers or any noise from the unit
The unit was warm (after 6 hours use under stage lighting with constant use) but not hot.
Viliv are going to try and send one out this week for arrival next week but I'll give it a 30% chance of happening based on Viliv's CeBIT and local territory commitments right now.
Shipments to pre-order customers in Korea started two day ago. (1000 units. Keep an eye on Ebay!)
Based on the quality of the build, the haptic feedback, the launcher app, the GPS and the performance, I'd say that the pricing is about right for the Viliv S5. You're getting a PC, PMP, navigation device (add 100 Euro for navigation software) a reasonable e-book experience and a web experience that will blow away anything else that will fit in your pocket.