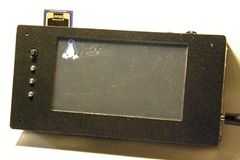 I feel sure there's a few similar projects lying around on lab benches around the world as OEMs test out the capabilities of the next generation of ARM-based platforms and think about MID-focused products but it's great to see a company, HY Research, take the time to write up such a project in so much detail. If you fancy making your own MID, you now have more inspiration then ever!
The MID uses the Beagle Board, $150 OMAP 3530-based development board and adds the interfacing, power, screen, buttons, connectors and casing to turn it into a fully working MID.
The whole project was done in around 80 hours of work. Information on the build process can be found here along with other Beagle Board projects here.