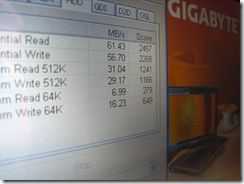 As planned, the Gigabyte T1028M Touchnote turned up from Mobilx today and the unboxing is already done and dusted. I had done quite a lot of homework before unboxing so I've not had any surprises or major let-downs yet although I really do like to see more than 3hrs on the working clock with battery life and so far, the T1028M is steady at about 2.5hrs working time. [Update: I'm seeing a regular 3.25hrs now in normal wifi usage and the Gigabyte 'Normal' battery mode] The SATA disk is fast (61/56 MB/s R/W max) and the touch is working nicely. The pre-installed 3G (a Mobilx option using the built-in SIM card and antenna) is working really nicely.  Noise and heat is definitely improved over the M912 although some fan noise remains. Keyboard is slightly wider than an MSI Wind U100 / Akoya Mini.
Don't forget the live overview and Q&A session tonight on the LIVE page. JKK and Sascha will be joining for a podcast at 2030 and then we'll get into a bit of Touchnote testing at about 2130 (CEST, Berlin time) I'll have a full hands-on first impressions write up on the 9th April (tomorrow as I write this)
The YouTube version of the unboxing is shown below but if the HQ version isn't available, the original (and MPEG-4, both downloadable) versions are at Blip.tv.

For more information and links for the Gigabyte Touchnote, see the product information page.
The Gigabyte Touchnote has been provided by Mobilx.eu