Update: All specs and details now in a new Crunchpad product page.
I was one of the 'doubters' that questioned the Techcrunch Tablet. I questioned what Mike Arrington said in his first information post. If all you are doing is running Firefox and Skype, you don't need a lot of hardware horsepower, which will keep the cost way down. inch  We all know that's not true because rich Web browsing is one of the most CPU-demanding applications there is. Now, 8 months later, you're looking at an Intel Atom powered device with a 12 inch capacative screen. The $200 price target isn't looking so achievable now and I'm sure they're now having a big battle with the weight/battery life equation. The article doesn't give much away so lets take a fun minute or two to make some estimations about weight, battery life and price.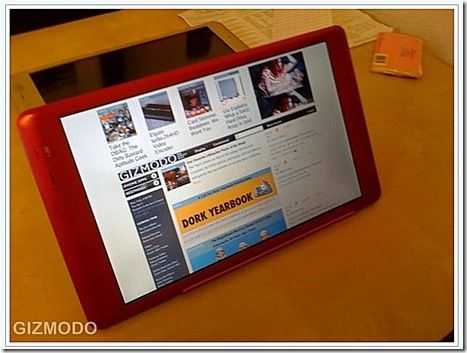 More images at Crunchgear
Lets assume they've dropped a 1.1ghz or 1.3Ghz Intel Atom inside with the SCH (UL11 or US15) chipset. The 800Mhz version won't provide enough headroom for YouTube, Hulu and Skype in my opinion so it has to be the 1.1 or 1.3Ghz versions. From our testing with various MDs we know that these can idle, without screen but connected to the internet, in a minimum of 3W of power. The 12 inch screen will add a big power drain to that though. Unless they've gone with a Pixel-QI or similar low-power screen, you can add 2-3 Watts to the overall power envelope bringing the average drain close to 6W. Real-world battery life will have to be above 2hrs to get anyone's attention (remember they are targeting in-home use) so a 15wh battery is likely. Given that, the weight is going to be about 700gm. As for price, if they can shift a 50,000 or more, they'll probably be able to hit $399. I'm basing this on the fact that the Benq MID, a device built on almost exactly the same Intel and Linux technology but with a larger screen) sells for Euro299 from TIM, the mobile carrier in Italy. So here's my guess on the missing specs:
Intel Atom 1.1Ghz
512MB Memory
4GB Flash
15wh battery providing 2.5 real hours ('up to 4 hours' in marketing-speak!)
Weight 700gm (the maximum, in my experience, for a one-handed experience.)
Price (USA) $399
Reminder, these aren't official specs.
Availability July 2009.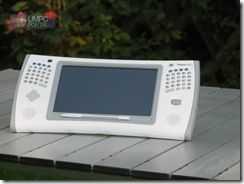 So despite having a 12 inch screen, it could come in at a very portable 700gm, about the same weight as most UMPCs. Is it a ultra mobile PC though? Considering that it won't be any larger than the PepperPad (image right. The PepperPad was built for the same target market, but failed to get much interest in consumer markets) It's going to be a tough decision for Techcrunch and a big risk due to the better capabilities of similarly-priced netbooks and Mike knows that (see one of his comments in this article where he says it 'may never happen') but the device looks slick and there's a lot of Techcrunch fans out there. Source CrunchGear Software design: Fusion Garage More comment at Techcrunch who say that more information will be available in about a week. Note, the name 'CrunchPad' comes from one of the photos of the packaging. This may be a project name.