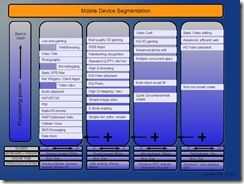 The iPhone and Android devices were the obvious leaders at the well-organised and very informative Mobile Dev Camp in Amsterdam this week but it was very interesting to throw the MIDs and UMPCs in to get feedback from 'mobile' software developers. When developers talk 'mobile' they are invariably talking about mobile phones but when I put the 4-segment diagram up on the board (right), there were a lot of questions and lot of interaction.  For most, it brought home the fact that 'mobile' goes way beyond the phone.
I also presented the MIDs and UMPCs for them to get some hands on and to explain the major differences and it was interesting to see which devices people were interested in. At the end of the day, as with the demo work I did with MIDMoves in SXSW, the UMID MBook won the most praise. As people gravitated towards it, I asked 'Why.'
The two most important elements of the hardware that made it a winner amongst the UMPCs and MID devices, based on the feedback and questions I got were:
Battery life was a secondary question, as was price. People assumed it had Wifi and BT of course but were more interested when I talked about 3G. Its interesting to note that the keyboard piqued so much interest touch at a time when on-screen keyboards are considered acceptable by many.
So if that's a hardware template that interests mobile software developers, what operating systems and APIs interest them? Clearly, Windows XP is not in the top 5 of mobile device operating systems (sidenote, it seems that most mobile software developers don't really consider anything outside their own 'top three') so I asked developers what the most important elements of software are.
Developers want a platform (or are stimulated by a platform) that allows them to utilise existing or easily-available skillsets – Java for Android, Objective C for iPhone for example.
Developers will balance the cost of development (ease of API, cost of developers, stability of poatform) with perceived customer base / earning potential.
Developers are creative people that don't enjoy being bound by rules so an API that allows or even stimulates creativeness by exposing hardware and features is a big advantage. New hardware with new or advanced features, stimulates developers.
Clearly it's not only developers that make the decision as the process of creating and selling software needs to be a controlled business process but it does appear to me that in the mobile world where a team of two can create a compelling app or service in a very short time, the developer has a big say in what platform(s) is used.
A healthy development community is critical to any platform and as the rules of mobile software development change, as time-to-market and cost-to-market reduce, there's one thing that's clearer to me than it ever was. A desktop operating system may allow one to use a device without any restrictions on software but the NEW mobile-focused software, the social networking and location-based services, the easy-to-use photo publishing services, the mobile gaming software, the internet-connected personal information management software, the live video and image publishing services and whatever comes next in the mobile world, will appear on these developer-friendly platforms first. That's where the buzz is and so if MID manufacturers want to seed their new devices in the new world of mobile apps, they will need to be using a mobile and dev-friendly operating system.
My research into the world of mobile software development and mobile operating systems is teaching me a lot about different ways MIDs could position themselves but there's a lot more to learn. Feedback from you mobile devs out there is more than welcome.