Looking like a set-play organised by Clearwire to promote WiMax is the official Samsung announcement of the Samsung Mondi Mobile Internet Device. The Mondi is the SWD-M100 mobile Internet device that we've reported on a few times. Despite the fact that it might be commissioned to promote WiMax, it's looking very interesting indeed.
Specifications:
CPU type – Unknown
OS – Windows Mobile 6.1
Display Size – 4.3″ 800 X 480 (resolution not confirmed)
Flash – 4048 MB
Keyboard – Slider
Size (w/h/d mm) – 120/75/16 mm (estimated)
Physical Interfaces: Headset i/f (Mic+Line), Micro USB, Micro SD slot, HDMI
Wireless Interfaces: 802.11b/g, BT2.0 (some blogs are reporting V2.1), Wi-Max
Additional Specs and Accessories:
WebCam 3.0mp (rear, no flash)
Microphone
WebCam (front)
Stand
Stylus
Ambient light sensor
GPS
Accelerometer
Opera Mobile 9.5
Touch Wiz UI
There's no info on the weight, cpu, battery and of course, price at the moment.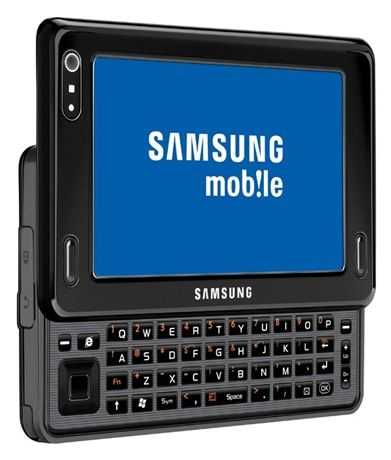 I'm seeing a lot of negative comments on blogs relating to Windows Mobile 6.1 but apart from the old-style UI, I consider WM to be a productive and flexible environment and well-suited for the early WiMax customers. The Opera Mobile 9.5 browser is good quality and there's a huge amount of software out there for the platform. It's mature too. If (and it's a big 'if' ) there's a high-end CPU in the unit (I'm thinking OMAP 34xx platform, Snapdragon or similar) then Intel have a real competitor on their hands in the MID space. Even OQO and Nokia will be watching this one carefully.
See an interactive list of similar devices from our database.
I mentioned 'set-play' above and what I mean by that is that the Mondi is probably something that has been commissioned by Clearwire. I don't see exclusivity being life-long though so I really would expect this one to appear in Europe and other places with HSDPA inside before the end of the year. It just makes sense that Samsung exploit every big market with this.
I quick though about battery life. Expect this to be a 2-3W active-online device meaning a 1500mah battery would drive it for just 2-3 hours. Looking at the battery hatch though, I'd estimate that this has a bigger, 7-10Wh capacity in it meaning up to 6 hours would be possible (with an online-standby time of way over 10 hours and an offline standby time of days.) This is just an educated guess at the moment though.
The feature list is good (I've picked up the features from previous videos and news items) with GPS, good camera, accelerometer and mic enabling a range of scenarios. As a navigation device, web browser, microblogging tool, ebook reader and even a gaming device, this is really looking exciting. Note, however, that this is not a phone. Apart from voice over IP, there is no standard voice capability.
Check out the video below (PhoneScoop) , the product page and the current links to find out more.
Via: many source. (See links list)