I spent a few hours researching and pulling together  information on the SmartQ5 this morning and feel more positive about it now than I did a few weeks ago.
The SmartQ5 looks good and has an amazing price (local price in China – approx $132.) It has a good screen size/resolution and with Ubuntu (ARM), an good supply of software. As a media/internet/e-book reader/photo browser/travel device, there's definitely a lot of pocketable value there. The 667Mhz ARM11 CPU should make it faster than the Nokia tablet devices and the large 7.5wh battery should keep it running for a long long time between charges.
If it was ever available in Europe or US though, you'd be looking at something like $199 which puts it close to the offers that occasionally float around for the N810. (cdw.com have it for $226 as I write) With GPS, keyboard, camera, a healthy user-base and local-country support, the N810 is the better MID option in my eyes but that's only if you can find an offer.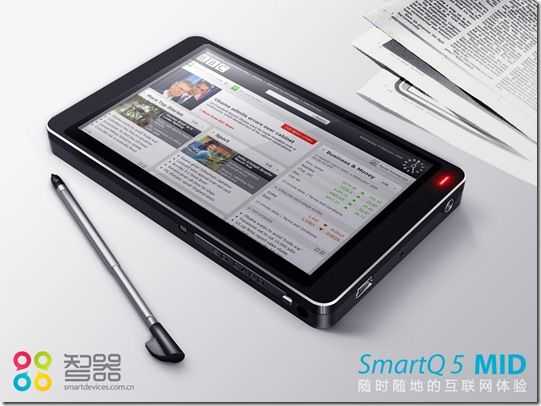 It's difficult to comment with any authority when you've never even had hands-on so if you've been thinking about the Smart Q, keep an eye on the new SmartQ5 product page where we'll be adding info, images and links as they come along. One of the first to be added was an unboxing photo-set from Kam Leung. There's also an unboxing from 'Sky' over at UMPCFever. [translation link]
If you see any more interesting content about the SmartQ5, please take the time to submit it ifor inclusion in the database.