Over the last 48hrs I've been focusing on the Gigabyte Touchnote T1028M that has been sent over by Mobilx. 48hrs isn't a long time but having done the unboxing, a full 3hr live test (recording) with viewer feedback (thanks to the 500+ people that dropped in during the live session) and Q&A along with a full 2-day use as my main PC, I feel that I'm a position to be able to give you the highs and lows.
The Touchnote is a device that falls between, or rather overlaps, the netbook, tabletPC and notebook categories and I have to say, I'm quite impressed with it. It's a very unique and enjoyable device with some excellent features and very few issues.
The images above sum up some of the features that make it unique. Convertible screen, touch layer and 3G-ready. The Touchnote follows in the steps of the M912M, the 8.9 inch convertible and in my opinion, fixes all the problems that existed with that device.
Let me quickly run down the main points of note.
Intel Atom 1.6Ghz 'netbook' platform with 1GB RAM and Windows XP Home.
Large, relatively fast 2.5 inch SATA drive. (61 / 57 MB/s read/write) split into two (80/65GB) partitions with an additional recovery partition.
Quite and cool operation (an important improvement over the M912M)
Average 3.25hrs online, active battery life. (about 30 minutes improvement over the M912)
Minimum 2.5hrs online batter life with high screen brightness and 3G connectivity.
Maximum 4hrs battery life (50% screen brightness, radios off)
Solid screen hinge (better than the M912)
BT 2.1 and Draft-N wireless support
Good quality on-screen control panel
Device-off battery indicator
Expresscard/34 slot
Easy access to Wifi and spare PCI-Express-MINI slots, RAM and disk.
Pre-wired antenna (good quality) and SIM card slot.
Multi-touch mouse pad (Elantech)
3xUSB, VGA, 4-in-one memory card slot, Ethernet, mic and headphone ports
Bright LED backlit screen with soft touch layer (great for finger operation, not great for handwriting input)
Touch driver has basic built-in swipe-gesture support for Pg-Up, Pg-Down forward and back.
Speakers loud. Reasonable (WRT netbooks) quality
Glossy screen will be an annoyance for outdoor use. (see image below)
Overall build quality good (no creaking plastic. finishing good.)
Uses lightweight power supply unit at 12VDC
A two-pocket neoprene 'hand'bag' is included.
Spare batteries are well-priced. 6-cell battery (150% capacity) is available.

Medion Akoya (same as MSI Wind) next to Gigabyte Touchnote showing slightly larger form factor and glossy screen.
Full Gigabyte Touchnote Gallery available in the gallery.
The Touchnote has been loaned to UMPCPortal by Mobilx who are also taking advantage of the built-in SIM slot, easy PCI-Express Mini slot access and, unique for any device I know of, pre-wired antenna. I've done 3G upgrades in the past but antenna reception has always been an issue. With the Touchnote, Gigabyte take all the worry away. The reception on the antenna is excellent. For the first time ever on any device, including a smartphone, that I have owned, I was able to get UMTS connectivity in my cellar studio!
CrystalMark performance test.
In order to highlight the disk performance I've run through the CrystalMark 2003 performance test. The result of over 28000 is one of the best I've seen for a stock netbook and is attributable to the disk which really does make a noticeable difference in operation.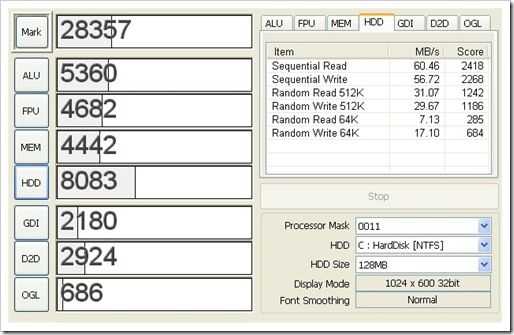 Summary.
The Touchnote offers a lot more than the average netbook and offers significant improvements over the groundbreaking M912M that came before it. Convertible touchscreen, draft-n WiFi, BT2.1, fast 2.5 inch drive, easy upgrade possibilities, Expresscard/34 and the well-prepared SIM card and 3G Antenna are a a feature set you won't find on any other device. The glossy screen and average battery life are really the only two points I could highlight as issues. Oh, and perhaps the fact that an advanced N280-based model is coming soon! Currently Gigabyte stands alone in offering a 10 inch touchscreen notebook at this price point but they may not have the playground to themselves for long. The ASUS T101H is an obvious competitor and many will be laboring over the choice between the two. Until we get hands-on with the T101H we won't be able to make a decision but until then, we can certainly say that the Gigabyte Touchnote T1028M is a unique, good value and well thought-out choice in both the prosumer end of the netbook market and the budget notebook market.
Price approx 480 Euro (export price. European price including tax, approx 580 Euros)
More information, specs, links and images in the Touchnote product page. Compare similar, popular devices here.