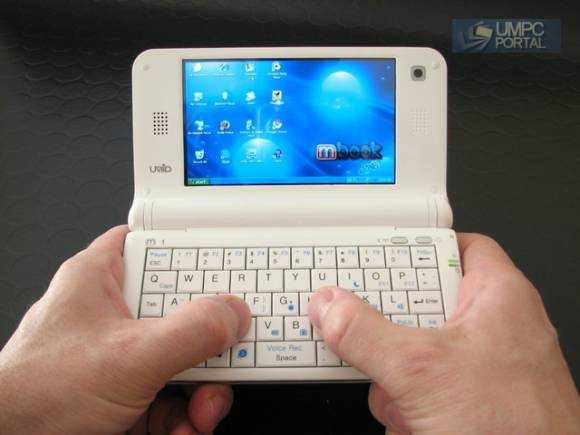 The UMID Mbook is a groundbreaker. The first pocketable clamshell device to be able to run Windows or Linux-based software on an Intel platform is a great achievement and a huge step forward in technology. It's also an attention-grabber. People are immediately drawn to the form factor and immediately understand that this could be a fun, productive and flexible device. It first appeared in Nov 2008 and went on sale in Korea in late Feb 2009. After a recall due to build quality issues, it's now appearing in Ebay channels. Resellers are also getting export retail samples and this is what we're testing here. The UMID Mbook M1 in export retail finishing sent over by Mobilx.eu
UMID M1 Overview
If you haven't seen the UMID M1 before you might look at the images and think 'netbook' but it's not. It's a mobile computing device. In fact, with the XP version we have here we wont hesitate to call it an ultra mobile PC. A 3rd Gen UMPC. That means it's small enough to be used productively in one or two hands in almost any scenario. You don't need a table to work with the UMID and the battery life is long enough to enable you to work up to 5hrs between charges. If you're the sort of person that hates a dead mobile phone battery at 2pm in the afternoon but loves a professional level mobile web experience, the UMID is exactly the device you should be looking at.
Initial experience
Its an exciting device to unbox (see unboxing video here) and there's a good set of accessories. A good quality English manual is included too. Opening the UMID Mbook up for the first resulted in a shocking 'click' though and a feel around the device gives the impression that the quality of the plastics aren't up to scratch. The keyboard feels good though with a nice mechanical action. Most ports are blanked off so the lines are fairly smooth. It looks clean and stylish. The shiny white finish may, or may not attract you!
If it hadn't had been for the creaky plastic and the clicky screen hinge, the first five minutes would have been perfect but you're left with a little worry. UMID need to work on this. (*1)
Specifications
For such a tiny (pocketable) and light (330g) device, it carries a huge amount of power. The 1.3Ghz, hyperthreading-enabled Atom Z520 CPU returns impressive computing power and a noticeable increase in speed over the Compal/Aigo MID that has been tested a number of times here. Windows XP home runs on 512MB RAM which, although quite shocking in this day and age, is really not a problem. XP Home uses a very small memory footprint leaving space for the usual mobile desktop application suite. The best part of the package though lies in the SSD. UMID have chosen one of the fastest stock SSD's I've seen in a ultra mobile PC (Sony Vaio P and Samsung Q1 U SSD excepted) and certainly the fastest storage you can put in your pocket. Not only does it speed up application startup but it also helps with the shortage of memory. If disk swapping needs to be done, it's going to happen quickly. The fast SSD is a master-stroke and within just a few weeks of use, highlights how slow HDD-based UMPCs are in comparison.
Full UMID MBook specifications at UMPCPortal
From the outside.
Around the right side of the device you'll find a DMB antenna (local Korean digital terrestrial TV), a DC input, a USB and audio breakout port (requires dongle, see below.) The micro SD slot , built-in mic and SIM card slot (for 3G-enabled versions) are positioned along the front along with a stylus. The left side is blank. The battery, a cylindrical package, slots in on the back and is a useful 18Wh capacity.
Opening up the device you'll find an 1024×600 screen with bright colours and a good LED backlight. Above the keyboard on the top-right are buttons for on/off and wifi/BT enable.
The Keyboard.
The keyboard is designed to be 'thumbed' while being held in two hands and in that mode, it's a very comfortable keyboard. Numerics and Function Keys are provided along with a series of FN-shortcuts that start applications like Windows Internet Explorer and the Voice Rec(order) app which is quick and easy to use and returns good results with the built in mic. (Good for recording interviews or thoughts for transcribing.) There are issues though.
The travel on the keys initially feels too deep for thumbing. (Although great for tablet-top use and over a period of two weeks, not as bad as first thought.)
The Question-mark and quotes keys require a FN-Shift three button combo (not as bad as it sounds as the Shift and FN keys are easily pressed together under one thumb.)
There is only one Shift and Ctrl key. Sticky-keys options under Windows can help here though.
We also have to report a slight (sub-mm in the top-right) bowing-up of the keyboard after a week of use. This is not impacting use of the keyboard at all but its noticeable when you look closely. [*1]
Overall, the keyboard is easier to use than on-screen keyboards and gives flexibility in use as a thumb, table-top 'peck' keyboard and one-handed 'peck' keyboard.
The USB/Headphone dongles.
This could be a deal-breaker for you so pay attention. There is no 3.5mm headphone or mic jack and the USB port is a mini port that requires an adaptor. (supplied.)
The headphones supplied use a special jack and are low quality earbuds. Bluetooth A2DP works well though and the built-in mic is surprisingly good. See notes on Skype below.
Screen
The screen is excellent. Colour and brightness are superb from this LED-backlit 1024×600 4.8 inch part allowing use in bright daylight use (not in direct sunlight though.) Resolution is high and the touch layer works really well. UMID have implemented drivers with cursor stabilisation which makes touching elements on the screen with the built-in stylus or even the finger easy. Use on Windows XP will require the use of large icons and a boost of the font sizes and window elements but This can be done easily in Windows XP.
There is another important note here though because of a real problem with the angle that the screen opens up to. It simply won't go back far enough for the most comfortable thumb-typing experience because the screen ends up pointing at your chest. This means you are constantly adjusting the device for the best thumbing comfort and then the best viewing angle. The screen doesn't stay in multiple positions either so when leaning back or lying (it's a great way to browse the web!) you'll find that the screen flops forward 5-10 degrees making it even worse. This is the most annoying fault of the UMID and really seems like a major design error.
Screen Viewing Angle
Left-to-right angles are excellent but in the vertical plane, you'll see a fading as you look down from above the screen. This is noticeable when using the thumb typing method due to the screen angle problem mentioned above.
Micro SD card slot
The micro SD card slot cover is very poorly designed. In fact, we would advise to simply break it off! It feels like it's going to break off within the first few weeks anyway so you might as well save yourself some stress. Micro SD cards are so small that it's also very fiddly to get it in and out. Buy the biggest Micro SD card you can afford, slot it in as extra storage and don't expect to be swapping it out regularly.
Power / Wifi buttons.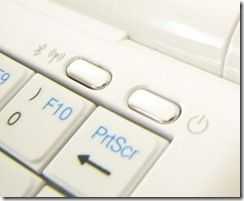 The XP-configurable power button (sleep, standy or power-off) sits next to the Wifi and Bluetooth control button. Both Wifi and BT are enabled at the same time but you can disable the Bluetooth radio from the system try icon. As the Bluetooth device is on the same LAN adapter as the Wifi , we haven't found a way to run the BT only. The other thing you'll have to get used to is that after returning from standby, hibernation or on a fresh boot, the Wifi and BT are always turned off. It's a fail-safe power saver but it will catch you out 50 times before you remember to turn it on manually each time!
Performance
Overall the UMID passes most performance tests with flying colors and on some areas, sets new standards. The 16GB SSD installed in the test version here returns some excellent speeds and makes the device feel far more powerful than most other UMPCs. CPU based performance is good too.
CrystalMark test results
We run CrystalMark as it's something we've been using for a long time and it gives us a benchmark we can interpret well.

CrystalMark 2004R3 [0.9.126.452] (C) 2001-2008 hiyohiyo
Crystal Dew World http://crystalmark.info/]
-=-=-=-=-=-=-=-=-=-=-=-=-=-=-=-=-=-=-=-=-=-=-=-=-=-=-=-=-=-=-=-=-=-=
CrystalMark Result
——————————————————————-
Display Mode : 1024 x 600 32bit (ClearType)
CrystalMark : 21940
[ ALU ] 4405
[ FPU ] 3714
[ MEM ] 3509
[ HDD ] 7524
[ GDI ] 2301
[ D2D ] 208
[ OGL ] 279
The overall score there beats many UMPCs but it's the CPU and HDD that really shine. A separate disk read/write test result is shown below. It's way above the average for a device in this category.
Video performance.
The UMID Mbook uses the Intel US15W system controller hub which incorporates a GMA500 graphics co-processor along with video decoding hardware for WMV, H.264 and standard MPEG-4 (DivX, Xvid.) Unfortunately it looks like the drivers are still not pulling the best out of the 3D hardware and under XP, it's a difficult job to find video filters that can link in to the hardware decoding. We've seen H.264 working extremely well under certain conditions and know that 720P decoding is even possible using the CPU alone but some tweaking (or waiting for someone to come up with a foolproof how-to) is going to be required to get the best out of it. There are some reports that the latest, beta drivers for the chipset are improving the 3D experience but at the moment, Google Earth and iTunes cover-flow are almost the limit of it's capability. Stay tuned for more information on 3D performance as drivers are still in early-stage development.
Out of the box, expect the following video performance figures to be easily achievable.
Divx 6mbps
H.264 2mbps
WMV 4mbps
MPEG2 16mbps
Results vary with filters and playback software but these figures should be considered baseline.
Audio.
Audio performance from the supplied headphones is poor and the output stage itself seems to be poor too. Using high quality headphones and the supplied adaptor, doesn't help much. Better results will be obtained through a BT adaptor running the A2DP stereo protocol. This is not a HiFi device!
The built-in mic is excellent for general use and although the mono speaker is quiet, it has reasonable clarity.
Heat and noise.
The UMID is fanless and it is possible to get the device warm. As the air input is on the base of the device, heat build-up is noticeable when the device is in use on a table-top. Charging the device while on a soft surface gets the underside of the device very hot indeed but in handheld use and idle-state use on a table, there's very little build up at all. Although we haven't tested it extensively, it is possible to leave the device on, closed and in a pocket. This is something we want to test further as in testing, leaving the device on with the Wifi off is resulting in over 6 hours of usage meaning you're just seconds away from opening up the device and starting to use it. When connected to Wifi the device lasts for about 5 hours when the lid is closed and we've heard from people testing the 1.1Ghz version of the UMID that up to 6 hours is possible using the same setup. That's extremely impressive.
As the device is fanless and has no rotating disk, the only thing you can hear is a tiny amount of noise from the power components if you hold it to your ear. To all intents and purposes, it's silent.
Stability.
We've experienced one or two strange situations with the touchscreen. We can't confirm that' it's the device itself or an effect created by Firefox but sometimes you just can't click on anything in Firefox. A log-out and log-in is required to fix this. It's happened about three times in two weeks. We've also had one incident where the disk got corrupted. It was fixed automatically on booting. We suspect this was to do with an ungraceful shutdown on battery-empty.
Boot-up, standby, hibernate speeds
One of the party-tricks of the UMID Mbook is its boot up speed. After two weeks of use we're still able to push the power button and get to the start menu in XP Home in 30 seconds. There are SSD upgrades on mobile PC's that will beat this but for an out-of-the-box boot sequence with no tweaking, we find it impressive. Hibernation in/out is also very quick (Largely due to the 512MB memory) and standby is always 2-3 seconds.
Battery life.
The UMID carries an 18Wh 2-cell battery. To put it into perspective, its about 60% of the size of most netbook and ultra mobile PC batteries and about the same as the battery packs you'll find on the OQO 02 and the Fujitsu U820. We have seen specifications on a 4-cell battery option but a spare 2-cell is really all you're going to need.
Worst-case battery life (Wifi on, web working) is slightly under the 3.5-hour mark. Best-case with Wifi-on is about 4.5hours. Playing back a medium bitrate film under CPU will return around 4 hours. If you can configure the device to decode video in hardware, expect another 30 minutes on top of that. As mentioned before, we're getting reports that the 1.1Ghz version is turning in even better results although there may be some penalty in terms of longer times for certain computing tasks.
Using the LaptopMag web-page loading test that starts a browser, loads a page, pauses for 10 seconds, closes the browser and continually repeats with a cycle of different websites, we were able to get 4hrs and 10 minutes. (Credit to LaptopMag for sending a copy of their test script.)
Mouse control
Where's the mouse control? You're looking at it! The touchscreen is the only way (apart from Windows accessibility options that allow you to use the cursor keys) to control the mouse. You can do this with finger or the built-in retractable stylus. Using the default settings on Windows XP on this 1024×600 screen is definitely going to result in some frustration but fear-not, there are two things that can help. The first has already been done for you in the touchscreen drivers. UMID have enabled cursor stabilisation and 'constant touch' which, while we have no idea if they are hardware or software changes (we suspect software) they work well to increase the hit-rate on icons and window controls. The second option is to run through a quick set of XP display optimisations. Increase the 'DPI' to 'Large (120 DPI)' in the advanced display settings and use the appearance tab under Display Properties. Under the 'advanced' button you can access a set of controls that let you increase Window buttons, fonts and scroll-bar widths. Spending time with this can really help the usability.
We also installed Fences to help partition the on-screen icons into groups. You may want to try this too.
Webcam
The quality of the webcam is good for such a small device. Recording using Movie maker at a relatively high 1mbps bit-rate resulted in better-than-expected results. It also works with Skype although you will be hitting CPU limits that will keep the frame rate down. Streaming with Ustream again returned better than expected results. Not totally smooth but certainly acceptable for a quick broadcast.
Application tests.
Firefox3, Chrome, Opera, Tweetdeck and Thwirl all tested perfectly.
Skype V4.0.0.224 works well with built in mic and speaker. Normal quality video works at a slightly reduced frame-rate.
YouTube – works well All normal quality YouTube videos tested well in windowed and full-screen mode. All HQ videos tested worked in windowed mode. Many worked perfectly in full-screen mode too. (Always-on battery mode) No HD YouTube support.
Google Earth (4.2.0205) worked reasonably well in DirectX mode. Certainly not as smooth as on a desktop or laptop but usable.
CoolIris plugin for Firefox worked with few stalls or hiccups. Good.
Firefox load times.
Firefox application startup time: 3 seconds.
Page load examples (full script and flash support over Wifi.)
UMPCPortal: 6-7 seconds
Google News: 1-2 seconds
CNN.com 6 seconds
Facebook 3 seconds to login screen
uk.yahoo.com: 2 seconds
Techmeme: 4 seconds
Gmail (full version): 7 seconds
Google Reader (633 items): 4 seconds
Overall, page loading times were extremely fast.
Gaming.
We haven't tested any games with the UMID Mbook.
WiFi/Bluetooth quality.
Bluetooth quality was not extensively tested. The system uses BlueSoleil version 5.4.244 which, in our opinion based on a number of devices running the same stack, is a stable and easy to use stack.
We had no problems at all with Wifi configuration or reception. Reception appears to be slightly better than average. The Marvell sd8686 only supports B and G modes.
TV module.
The TV module was not configured and only supports Korean protocols. A DVB-T option would be perfect for many people in Europe but unfortunately, it looks like the device will only be delivered with the Korean-standard DMB TV module.
Package contents.
The UMID was supplied with a basic pouch-style bag, the two dongles for USB and audio, a spare stylus, an English manual, a lanyard and a Windows XP Home CD. We didn't get any pics of the packaging in our gallery but or friends over at Pocketables did in their very good unboxng photo-shoot. Be aware that some markets and resellers may receive different package contents.
Optional accessories.
So far we haven't been made aware of any optional accessories.
Who's the target customer?
This is clearly an advanced mobile device and with the keyboard, it's speed of operation and ability to run a desktop operating system it's going to appeal to a number of different types of people.
Microbloggers and Mobile Bloggers. Getting the best out of contact feeds and social networks is something the UMID excels at. The version we had did not include 3G but there is a version with 3G. Tethering via mobile phone is also an option. The keyboard is flexible enough to be used for quick emails and blogs via thumb or table-top pecking.
A home-bound quick-access internet device. Perfect for looking up TV schedules, transport timetables or booking tickets and searching online databases. You've got quick, full-web access in a stylish package.
Video playback. The 4.8 inch screen and long battery life provide an excellent PMP experience.
This is not a device for digital photographers due to the difficult-to-access SD and USB ports.
The form factor and lack of GPS would be an issue for those looking for a navigation device.
Summary
We're impressed with the technology in the UMID Mbook, the processing power, the battery life, the screen and the fast SSD. We're not impressed with the fiddly micro-SD slot, headphone and USB ports though and these, we're sure, will be major issues for a lot of people. Build quality could also be better. Despite these issues, the UMID is a device that you keep going back to and keep wanting to take with you, even if you don't have any 'computing' activities planned. It's a very flexible, and fast, pocket companion. One might say, a pocket microblogging rocket!

Full specifications along with links to related articles in the UMID product page.
Pricing and availability
No pricing or availability at the time of writing. Guideline, entry-level prices are ranging from $500 to $700 and we're hearing that imports will be available through resellers in May. We'll update when we hear something definite.
Thanks to Mobilx for sending the UMID Mbook over. Their sales page is available here.
(*1) UMID are said to be looking at improving the build quality and it's possible that final retail versions will have a better construction.