The UMID Mbook is a groundbreaker. The first pocketable clamshell device to be able to run Windows or Linux-based software on an Intel platform is a great achievement and a huge step forward in technology. It's also an attention-grabber. People are immediately drawn to the form factor and immediately understand that this could be a fun, productive and flexible device. It first appeared in Nov 2008 and went on sale in Korea in late Feb 2009. After a recall due to build quality issues, it's now appearing in Ebay channels. Resellers are also getting export retail samples and this is what we're testing here. The UMID Mbook M1 in export retail finishing sent over by Mobilx.eu
Overview
If you haven't seen the UMID M1 before you might look at the images and think 'netbook' but it's not. It's a mobile computing device. In fact, with the XP version we have here we wont hesitate to call it an ultra mobile PC. A 3rd Gen UMPC. That means it's small enough to be used productively in one or two hands in almost any scenario. You don't need a table to work with the UMID and the battery life is long enough to enable you to work up to 5hrs between charges. If you're the sort of person that hates a dead mobile phone battery at 2pm in the afternoon but loves a professional level mobile web experience, the UMID is exactly the device you should be looking at.
First five minutes.
Its an exciting device to unbox (see unboxing video here) and there's a good set of accessories. A good quality English manual is included too. Opening the UMID Mbook up for the first resulted in a shocking 'click' though and a feel around the device gives the impression that the quality of the plastics aren't up to scratch. The keyboard feels good though with a nice mechanical action. Most ports are blanked off so the lines are fairly smooth. It looks clean and stylish. The shiny white finish may, or may not attract you!
If it hadn't had been for the creaky plastic and the clicky screen hinge, the first five minutes would have been perfect but you're left with a little worry. UMID need to work on this. (*1)
Specifications
For such a tiny (pocketable) and light (330g) device, it carries a huge amount of power. The 1.3Ghz, hyperthreading-enabled Atom Z520 CPU returns impressive computing power and a noticeable increase in speed over the Compal/Aigo MID that has been tested a number of times here. Windows XP home runs on 512MB RAM which, although quite shocking in this day and age, is really not a problem. XP Home uses a very small memory footprint leaving space for the usual mobile desktop application suite. The best part of the package though lies in the SSD. UMID have chosen one of the fastest stock SSD's I've seen in a ultra mobile PC (Sony Vaio P and Samsung Q1 U SSD excepted) and certainly the fastest storage you can put in your pocket. Not only does it speed up application startup but it also helps with the shortage of memory. If disk swapping needs to be done, it's going to happen quickly. The fast SSD is a master-stroke and within just a few weeks of use, highlights how slow HDD-based UMPCs are in comparison.
Full UMID MBook specifications at UMPCPortal
From the outside.
Around the right side of the device you'll find a DMB antenna (local Korean digital terrestrial TV), a DC input, a USB and audio breakout port (requires dongle, see below.) The micro SD slot , built-in mic and SIM card slot (for 3G-enabled versions) are positioned along the front along with a stylus. The left side is blank. The battery, a cylindrical package, slots in on the back and is a useful 18Wh capacity.
Opening up the device you'll find an 1024×600 screen with bright colours and a good LED backlight. Above the keyboard on the top-right are buttons for on/off and wifi/BT enable.
The Keyboard.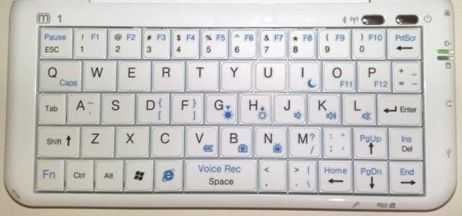 The keyboard is designed to be 'thumbed' while being held in two hands and in that mode, it's a very comfortable keyboard.  Numerics and Function Keys are provided along with a series of FN-shortcuts that start applications like Windows Internet Explorer and the Voice Rec(order) app which is quick and easy to use and returns good results with the built in mic. (Good for recording interviews or thoughts for transcribing.) There are issues though.
The travel on the keys initially feels too deep for thumbing. (Although great for tablet-top use and over a period of two weeks, not as bad as first thought.)
The Question-mark and quotes keys require a FN-Shift three button combo (not as bad as it sounds as the Shift and FN keys are easily pressed together under one thumb.)
There is only one Shift and Ctrl key. Sticky-keys options under Windows can help here though.
We also have to report a slight (sub-mm in the top-right) bowing-up of the keyboard after a week of use. This is not impacting use of the keyboard at all but its noticeable when you look closely. [*1]
Overall, the keyboard is easier to use than on-screen keyboards and gives flexibility in use as a thumb, table-top 'peck' keyboard and one-handed 'peck' keyboard.
The USB/Headphone dongles.
This could be a deal-breaker for you so pay attention. There is no 3.5mm headphone or mic jack and the USB port is a mini port that requires an adaptor. (supplied.)
The headphones supplied use a special jack and are low quality earbuds. Bluetooth A2DP works well though and the built-in mic is surprisingly good. See notes on Skype below.