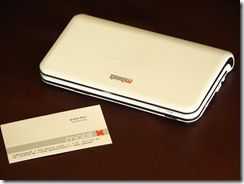 This morning I received the UMID Mbook, a tiny, clamshell ultra mobile PC that everyone seems to be interested in. My opinion is that this is one of the best mobile/microblogging devices there is (and I include all smartphones) and that its a stylish, flexible ultra mobile PC of the sort that many of us wanted to see from day 1. That means, its POCKETABLE and it has a KEYBOARD!
The unboxing video is below. There's a gallery to view and the specifications (and some hands-on review links) are in the information page. Unfortunately, I won't be able to do a live  Q&A session on this immediately as I'm heading to Amsterdam for 'TheNextWeb' conference in about 3 hours [('m taking the UMID. If you want to see it there, contact me.) so I'll schedule a live session for the week beginning 19th April. Again, thanks to Mobilx.eu for sending this over. They plan to have final pricing and stock very soon.
Original WMV available at Blip.tv
More information in the UMID Mbook product page.